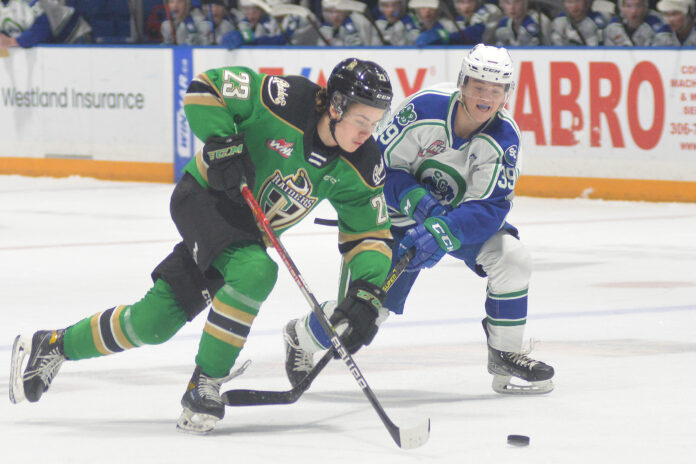 The Swift Current Broncos playoff hopes took a serious blow on Friday with a 4-1 loss to the visiting Prince Albert Raiders. Special teams played a major role as the Raiders scored twice on the power play to hand the Broncos their fourth consecutive loss to conclude the regular season.
The Raiders pulled even with the Broncos in the standings with 59 points for the eighth and final Eastern Conference playoff spot.
The Raiders opened the scoring with a power play goal from Sloan Stannic 6:17 into regulation when his centering feed bounced off two Broncos and into the net.
The Broncos tied the game 27 seconds into the second period when Cole Nagy snapped home his 14th goal from the slot. The Raiders tied the game four minutes late with a Carson Latimer goal and then added a power play goal from Vladislav Shilo for a 3-1 lead after two periods.
Evan Herman scored into an empty net to close the scoring with 2:24 remaining in regulation.
Isaac Poulter took the loss with 24 saves to finish 20-23-4-2 on the season. Tikhon Chayka improved to 21-21-3-1 with 32 saves.
The Broncos dropped to 26-35-5-2, while the Raiders improved to 27-35-4-1.
The Raiders will host the Brandon Wheat Kings on Saturday to conclude the regular season. The Regina Pats will host Winnipeg on Saturday and the Moose Jaw Warriors on Sunday. The Calgary Hitmen will host the Lethbridge Hurricanes on Sunday as well.
The Broncos will need a Prince Albert regulation loss, a Calgary loss, and two Regina losses to keep their season alive.