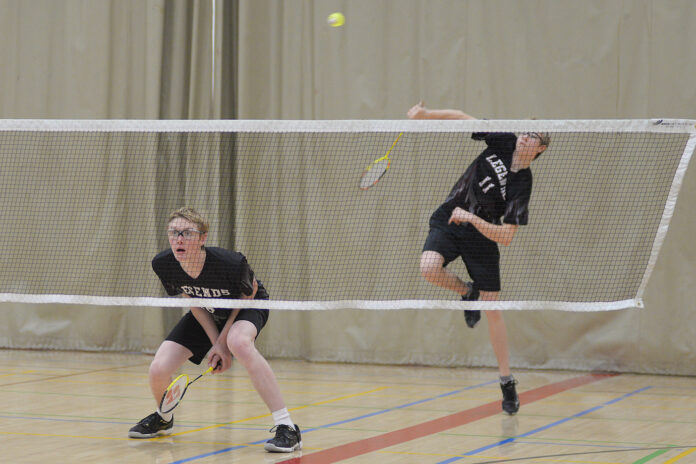 The Swift Current Comp. Colts and Ardens badminton team hosted 10 other high school badminton teams for their annual home tournament on Saturday.
The host team finished with two gold medals, three silver, and one bronze. The Fox Valley Legends had a strong showing with one gold and two bronze medals. The Leader Saints followed with gold and bronze medal performances. The Ponteix Predators also won gold, while Gravelbourg, Maple Creek, and Eston also had top-three showings.
Leading the way for SCCHS was the grade 12 team of Hailey Carlson and Connor Frohlich with gold in Mixed Doubles. They won all seven matches while only dropping one set. Gravelbourg's Samuel Simonsen and Hunter Rotheisler won silver in Mixed Doubles with a 6-1 record, only losing in three sets to the gold medallists. Fox Valley's Lexi Schneider and Dominic Ehnisz won bronze with a 5-2 record.
Swift Current's Navi Singh won all six of his matches to claim gold in Boys Singles. He finished 4-0 in the round robin and then won both playoff matches, concluding with a championship win over teammate Kuren Mosquito (21-18, 21-8). Mosquito had won his first five matches to reach the final. Ty Switzer completed the Colts sweep with bronze in Boys Singles.
Fox Valley's Olivia Hudec won gold in Girls Singles. She defeated Swift Current's Shekina Cordero (21-14, 21-9) in the championship match after winning her opening six matches without allowing more than 12 points along the way. Maple Creek's Tealyn won bronze in Girls Singles.
Leader's Gauje and Chace won Boys Doubles in three sets over Swift Current's Harit Desai and Hasit Desai (21-14, 15-21, 21-17). The Leader team had won their pool with a 5-0 record while the SCCHS team was 4-0 to win their pool. Both teams advanced through the semi-final to set-up the three-set championship match. Fox Valley's Noah Bosch and Ryan Hudec won bronze in Boys Doubles.
The Ponteix tandem of Sierra Ross and Daniela Palaganas won gold in Girls Doubles. They defeated Eston's Josey Mcevoy and Taya Hansen (21-13, 21-17) to clinch gold. Both teams finished 3-0 in the round robin before navigating through the 15-team playoff bracket to reach the finals. Leader's Haley and Kelsey won bronze in Girls Doubles.
The SCCHS will host SHSAA badminton sectionals on Saturday as the provincial playoffs get underway. SWAC athletes will begin playing off to qualify for provincials in Rosthern on May 14.