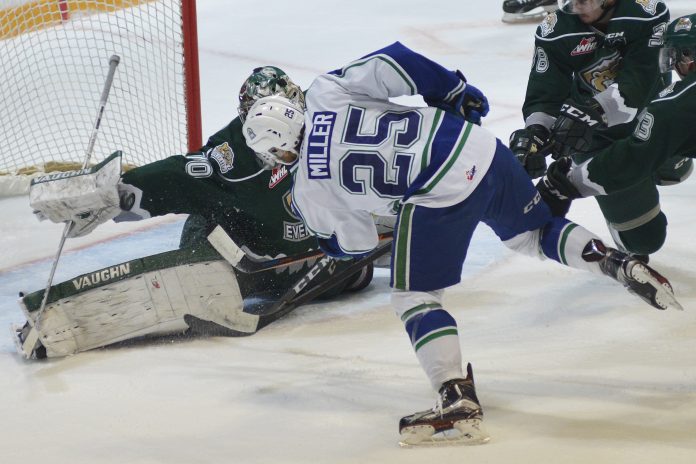 The Swift Current Broncos earned a single point in a 3-2 overtime loss to the Everett Silvertips Saturday.
Playing their third straight home game against a division leading team, the Broncos got a late goal from Glenn Gawdin to force overtime, before Lucas Skrumeda netted the game winner for Everett 2:53 into the extra frame.
"There was a tremendous amount of pride for our kids," said Broncos' Head Coach Manny Viveiros. "I am really proud of the way they played. They battled hard against a really good hockey team, especially at the end there, scoring in the last minute. I thought we played really well. That's as a good a defensive team that we are going to play all year and we played really well. I am very proud of the kids. It was just unfortunate at the very end there. That's the way it happens sometimes."
Gawdin had scored to open the scoring with a delayed penalty coming against Everett. The Silvertips tied the game with a power play goal from Noah Juulsen and then took the lead with 7:45 remaining in regulation on a Devon Skoleski goal.
Gawdin tipped home his second goal of the game with 1:33 left and the goaltender pulled in favor of the extra attacker.
The overtime winner came just moments after Broncos' forward Aleksi Heponiemi came just shy of tipping home a puck into an empty net at one end of ice. Vivieros felt his player was interfered with on the play and let the officials know about it after the game.
"I thought it was a clear penalty and it was. I looked at the video too and it was a clear penalty, impeded Heponiemi from a clear chance. He saw it differently. It happens, it's part of the game. There is nothing we can do about it. He made it, it's a judgement call, one of those things. It's part of game, we've got to live with it, done, over with, we've got to move forward."
Both goaltenders were outstanding in the game. Hart, the reigning Canadian Hockey League Goaltender of the Year, made 27 saves on 29 shots, none better than a desperation blocker save off of Arthur Miller late in the second period. Taz Burman made 30 saves on 33 shots for the Broncos to help earn the single point.
"Every point is so valuable right now," said Viveiros. "We deserved two points tonight. I was very happy with the way we battled against a very good hockey team. It was very encouraging moving forward."
Everett continues to lead the U.S. Division with a 36-12-8-2 record. The Broncos fell to 30-18-4-6, six points behind Moose Jaw and six points ahead of Brandon in the East Division.
Things don't get any easier for the Broncos this weekend with three road games in as many nights. They visit the Regina Pats on Friday and Sunday, with a game against the Moose Jaw Warriors sandwiched in between.