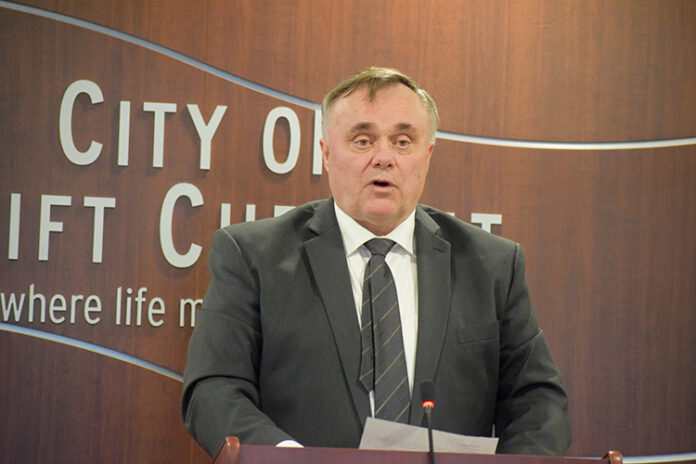 Swift Current taxpayers will be paying 2.15 per cent more on their city property tax bill following Swift Current City Council's approval of the 2022 Municipal Budget on Monday night.
Council had been deliberating the budget over the past three months before settling on the finalized budget which includes operating and utility expenditures of$66,318,371, capital expenditures of $17,023,690, for a total budget of $83,342,061.
Swift Current Mayor Al Bridal noted during his budget presentation that council had been facing a property tax increase of 6.3 per cent earlier in the budget process before finding reductions in expenditures to reduce the budget increase.
"Council and Administration were able to significantly mitigate many of these pressures during the budgeting process, allowing us to reduce what could have been a $6.3 per cent property tax increase to a more manageable 2.15 per cent increase in 2022," Bridal said on Monday night.
"Our thorough review of projects and services indicates that we were able to find significant efficiencies last year and we are not in a position to cut projects and services that will only compound pressures for future generations."
One of the budgetary pressures this year was an increase of $489,203 for the city policing contract as a result of a new agreement with the RCMP. The City is also anticipating an increased expenditure of $213,709 resulting from the higher Federal Carbon Tax.
The 2.15 per cent increase represents an increase of $418,250 in taxation revenue for the City, with Council unable to find any further budgetary savings to further reduce property taxes.
"The only way to find the other $400,000 was either to borrow it or not do a project… Or layoff four and a half or five people," Bridal admitted.
He said additional cost savings for city expenditures are continually on the table.
"We are seriously looking at everything we're doing here. We're looking at admin. We're looking at IT. We're looking at our Museum and Art Gallery. We're just looking across the board seeing where could we have a place if someone retires could we not backfill that position. And that's what we're doing right now. They did a little bit last year but we're going to be doing a lot more of that this year."
The budget includes a series of priority infrastructure projects, including completing work on the North Hill Reservoir, a roof replacement at the Aquatic Centre, a downtown intersection improved at Central Ave. N. and Cheadle St., along with enhancements to the storm sewer system and additional work to alleviate localized flooding issues in the downtown core.
Mayor Bridal said that a few expenditures were cut in order to bring the budget closer to balance. He feels the cuts are generally not going too far and creating a backlog in work for future budgets.
"I do have some concerns and it's mainly for our roadways more than anything. Most of the other projects, most of the sewer and water projects, the North Hill Reservoir its been deferred for a few years but we're getting to it now. We're doing $1.6 million this year and we're doing $1.6 million next year on that North Hill Reservoir.
He said Swift Current's roadways, in comparison to other cities, are in similar condition or better than in other locations.
"All municipalities with paved roads all across North America, we have huge issues with keeping our paved roads and sidewalks up."
Council is also achieving a reduction in city general debt through this year's budget, helping the city realize a reduction of $5.75 million in principal debt from the start of their mandate through to the end of 2022.
City ratepayers will also experience a one per cent increase to water and sewer rates to help pay for the $3.6 million borrowed for the project completed last year at the Water Treatment Plant.
Councillor John Wall was the lone dissenting vote on the budget increase which passed by a six to one margin.
Wall noted he campaigned for a return to City Council with a pledge to keep taxes affordable and as low as possible.
"I cannot support a budget that increased the tax bill on our citizens, especially our citizens on fixed incomes. We live in a time of inflation, the likes of which we have not seen in decades. As these inflationary prices rise, our residents on fixed incomes have no recourse. To me this is very serious."
"Likewise, in such an inflationary environment, coming out of a two year pandemic, I think we ought not to make it more difficult for our small businesses to remain viable."
He knows the city can't keep taxes flat indefinitely, and that there will be times for modest increase. However, he feels this year is not the time for an increase.
"I believe that for this budget in these unprecedented times of inflation, my vote in favour would represent me breaking faith with the commitment I made to the citizens of Swift Current. I'm not going to do that, and I can not do that," Wall said.