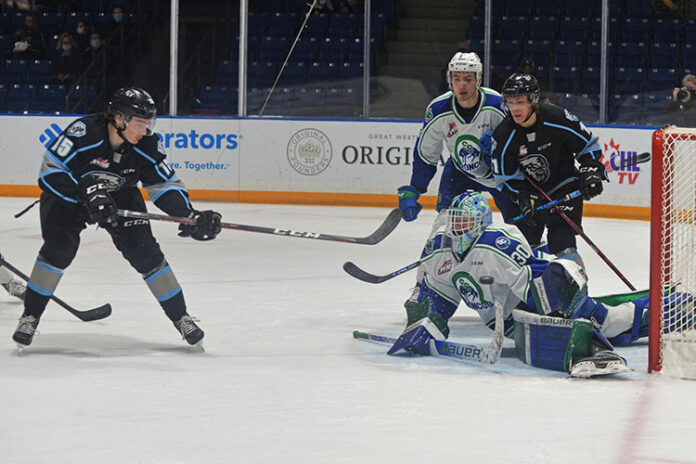 The Swift Current Broncos pulled off a stunning comeback with four unanswered goals for a 5-4 win over the visiting Winnipeg Ice on Saturday.
Mathew Ward scored the winning goal with 1:29 remaining in regulation to complete the comeback, his 19th goal of the season as he redirected an Eric Van Impe centering feed home on the rush.
One night after losing 7-0 in Moose Jaw, the Broncos had trailed 3-0 and 4-1 against the third ranked team in the Canadian Hockey League.
Connor Geekie opened the scoring with a deflection goal 55 seconds into regulation. The Ice added a breakaway goal from Connor McClennon minutes later to double the lead. Jack Finley added a one-timer goal for a 3-0 lead before the opening period hit the midway point.
The Broncos cut into the lead with a power play goal from Van Impe at the 11:28 mark on a seeing eye point shot that hit the top corner for his fourth goal of the season. The Ice quickly replied with a goal from defenseman Carson Lambos on a two-man advantage to restore the three-goal lead.
The Broncos cut into the lead midway through the middle stanza when Ty Hurley scored on the rush for his first WHL goal. The Broncos got back within one goal when Owen Pickering scored on a long three-on-two from his knees in the crease, his eighth goal of the season.
The Broncos tied the game 1:19 into the third period when Josh Davies won the puck on the fore-check and set up Connor Hvidston for his 10th goal of the season.
Reid Dyck made 32 saves for the Broncos, none better than a diving glove save with 6:30 remaining off of Chase Wheatcroft.
Gage Alexander took the loss with 23 saves to fall to 17–7-1-1.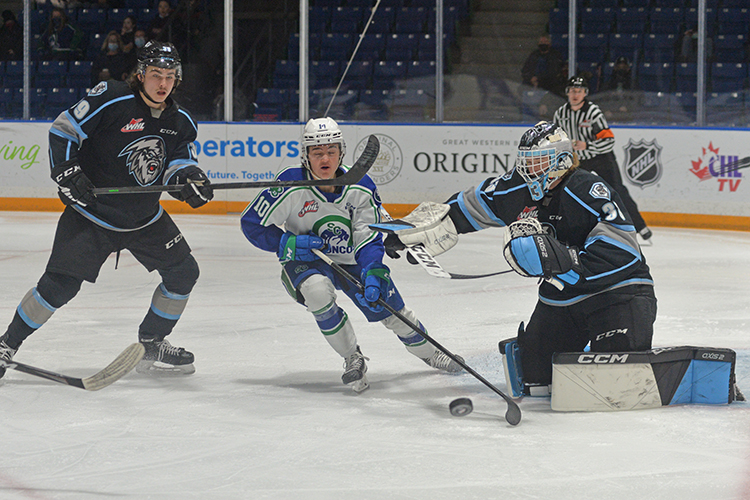 The Broncos improved to 20-26-5-1 with their most impressive win of the season, while Winnipeg fell to 34–9-2-1.
The two teams will rematch Sunday at 7 p.m. in Swift Current.