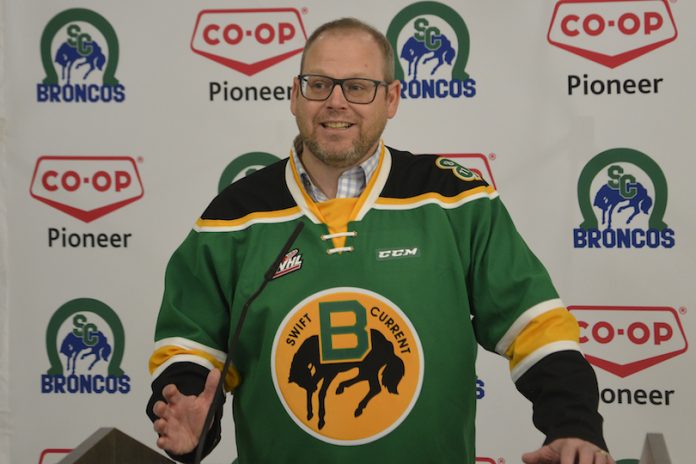 The Swift Current Broncos are hosting three of the top teams in the Western Hockey League this week and Mayor Denis Perrault in encouraging hockey fans to come out and support the team.
The team has branded the week as 'Bronco Week' with the Regina Pats here on Wednesday, the Medicine Hat Tigers visiting on Friday, and the Everett Silvertips on Saturday.
"I think if you haven't come to the rink yet this year, this is the week to come. Come down to the Stable, pick up your tickets, I know you'll be impressed. Just this past weekend on the road the Broncos managed to pick up five out of six points out of their three hockey games… We are excited to watch run-and-gun, very fun hockey," said Perrault.
"This is the smallest market in the CHL and that's something we are proud of, that's something we celebrate. Broncos hockey means a lot, not just to our community, but to the surrounding area. It means economic opportunities when we see people come in to the rink to come for a meal, possibly even to stay a night. But outside of that, it's a sense of pride. I love coming to the rink and coming to the Bronco games with my little guy and my wife. I know that everyone else that hasn't been out here yet this year would feel the same way. It is an exciting team and it is fun to watch. It's fun to come and rally behind the home team. We are going to see a great week this week and I really encourage you to come out if you can," he added.
The newly elected mayor can often be found in section P cheering on the Broncos.
"I call it the passionate section. We have got some fans there that have been there since well the Broncos came back. There's lots of chirps and lots of cheering and it's fun sitting in that section. We love it and it is just an exciting hockey game, especially this year. It seems to be that since the puck dropped at the start of the year it just seems to be a revitalized team, lots of energy and lots of fun. I am definitely encouraging people to please come out."