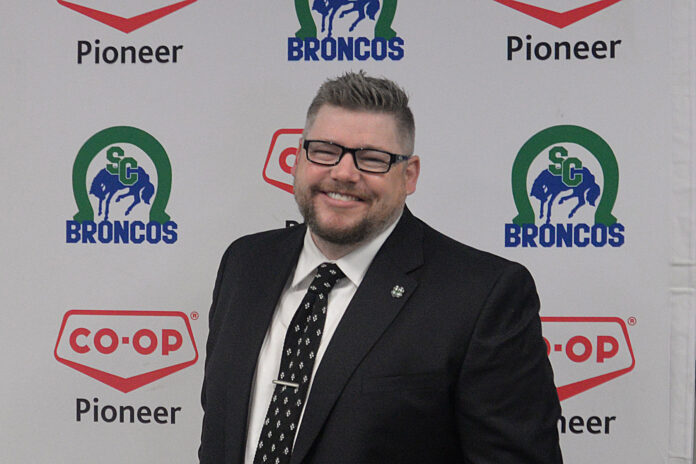 The Swift Current Broncos announced on Monday that they had removed the interim tag from Chad Leslie's title and that he was named the full-time general manager.
Leslie, from Elkhorn, Man., was named the interim general manager following the resignation of Dean Brockman on October 14. He had been serving as the assistant general manager since the beginning of the 2020-21 season, and was the Broncos Director of Scouting for two years prior.
"Since Chad came to the organization, he has shown an aptitude for identifying skill," said Broncos Board Chair Trent McCleary. "Dean thought very highly of him when he brought him on, and he's come a long way since he first joined the team. It's another step in his development and he's earned the opportunity to be the general manager of the club."
"I would like to thank the Board, Trent, Liam, and the rest of the Bronco Board for giving me this opportunity. Certainly it is one that I take very seriously and I'm quite honoured to be in this position," said Leslie at the announcement. " I think moving forward our group is trending in the right direction. We have great leadership with Devan [Praught]. Our scouting group is solid. We feel like our Board is very supportive of what's going on in this situation right now. Based on where we've been and where we are right now currently, we feel pretty positive about the direction we're going."
Leslie will focus on the general manager duties while Devan Praught will continue as the interim head coach, a departure for the Broncos, who have traditionally had one person fulfill both of those roles.
"We've just noticed over the years, especially with Dean and especially with Covid and the world that we live in, it's such a huge position as general manager and as coach, that the Board of Directors felt it was necessary to split the roles due to the workloads," said McCleary.
Leslie is looking forward to building on his achievements with the Broncos over the past four years.
"I think I'm proud of the group of scouts that I have in regards to how hard they work, the commitment level they have. I'm proud of our coaching staff. I think they've taken it to the next level in regards to giving us some structure and baseline for where we want to go, how we want to be identified as a team and individual players as well. Then just the players themselves, extremely proud of how they've developed here in recent years. I know you're always gauged on results, but for me the way the team has played this year, we can be down early in games and the guys claw their way back. They play, for the most part, 60 minutes most nights. In the past we haven't seen that, where a 2-0 deficit turns into a 6-1 or 7-2 deficit. I'm proud of the guys for taking that step and I think it's based on their commitment, their character, and their compete. For me it's just seeing everybody develop and grow and grow up in front of our eyes," said Leslie, who pointed out that on Sunday there were 13 players ages 15-17 in the line-up in Calgary for a 4-2 win over the Hitmen.