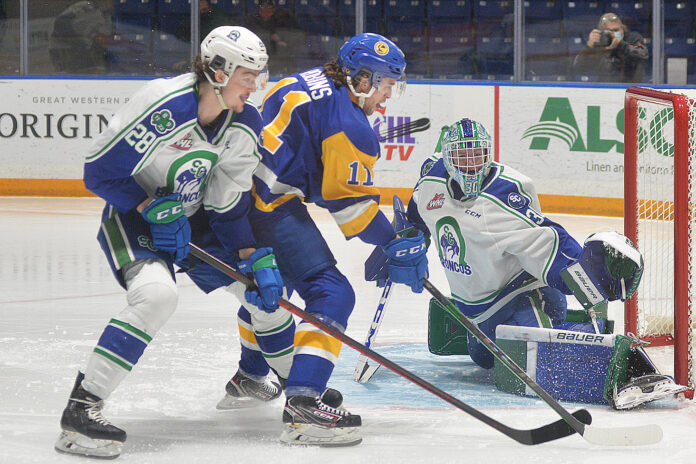 The Swift Current Broncos had a three-game point streak snapped in a 6-4 loss to the visiting Saskatoon Blades on Friday. Tristen Robins led the Blades with three goals.
Robins scored a power play goal for a Saskatoon lead before Raphael Pelletier replied for the Broncos with his 11th of the season in the first period.
The Blades added three goals in the opening 7:13 of the second period, beginning with a penalty shot goal from Robins only 33 seconds in. Egor Sidorov added two goals to give the Blades a 4-1 lead. Brady Birnie replied minutes later to cut the deficit to 4-2.
The Blades added an insurance goal 4:56 into the third period from Noah Boyko. Josh Davies scored a late goal to cut the lead back to two goals. Cole Nagy scored while shorthanded in the final minute to make it a one-goal game. Robins completed the hat trick into the empty net to close the scoring.
Reid Dyck made 16 saves to fall to 2–7-1-0.
Nolan Maier improved to 15-12-1-1 with 27 saves for the Blades.
The Broncos fell to 13-16-4-1, while the Blades improved to 17-14-1-1.
The two teams will rematch Saturday in Saskatoon.