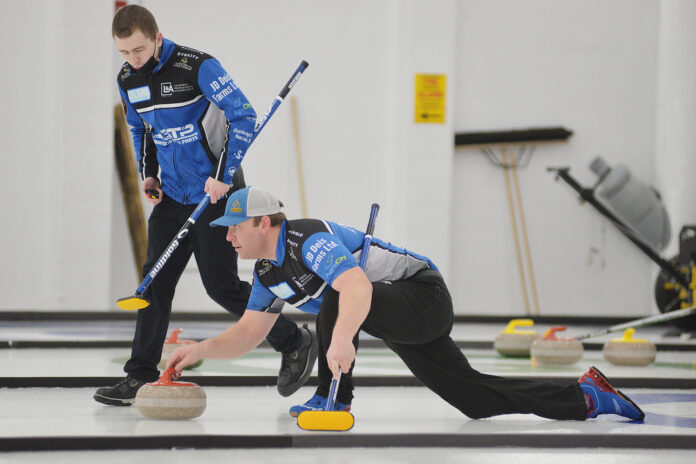 Five teams with ties to the Southwest took part in the SaskTel Curling Stadium SCT Players Championship in Swift Current with impressive results, highlighted by a championship performance from Fox Valley's Ryan Deis.
Deis was joined by Garret Springer, Dustin Mikush, and Kalin Deis as they lost their opening game before reeling off six straight wins. They dropped their opening game 5-3 to Saskatoon's James Owens on Friday. They rebounded to win three games in the B Event to reach the championship event. Deis defeated Regina's Brett Behm 7-4, Swift Current's Max Kirkpatrick 5-4, and Saskatoon's Jason Jacobson 7-3.
They added a 7-3 win over Kirkpatrick in the quarter-final and then moved past Jacobson with a 5-3 win in the semi-final.
Deis faced the Swift Current rink of Shaun Meachem in the final and won 5-3 after scoring three points in the seventh end.
Meachem put together five straight wins to go along with losses to open the close the event. They dropped their opener 8-4 to Jesse St. John, who was also curling out of the Swift Current Curling Club. Meachem then defeated Swift Current's Chad Andrews 9-0, Saskatoon's Logan Ede 9-2, and Saskatoon's Rylan Kleiter 6-4 to reach the playoffs.
Meachem hammered Regina Ben's Gamble 10-1 in the quarter-final and then defeated Regina's Kelly Knapp 9-4 to reach the final.
The senior mens team of Max Kirkpatrick had a strong showing on home ice with three wins and three losses. They lost their opener 9-6 to Saskatoon's Kody Hartung, before defeating Regina's Steven Howard 5-4. They lost 5-4 to Deis before defeating Ede 8-3 and St. John to reach the playoffs, where they were eliminated by Deis.
St. John finished with two wins and three losses. They won their opener 8-4 over Meachem before losing 7-6 to Jacobson. They defeated Saskatoon's Michael Carrs 8-0, but were eliminated with a 6-3 loss to Gamble and a 6-3 loss to Kirkpatrick.
Andrews was eliminated from the tournament with losses to Jacobson, Meachem and Canora's Rob Zuravloff.