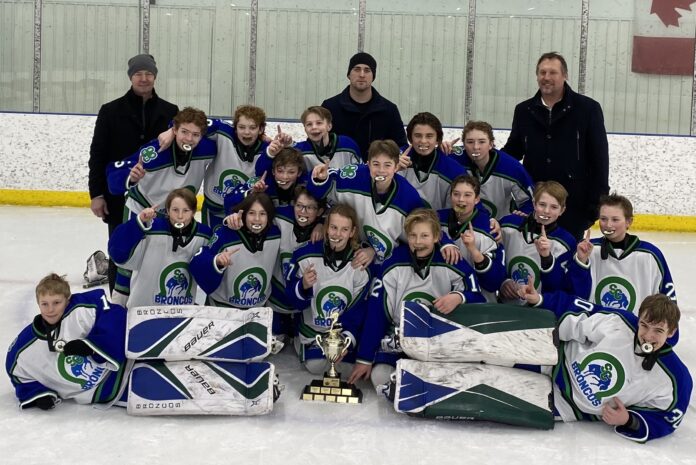 The Swift Current Southwest Terminal U13 AA Broncos won all six games to claim gold at the Sask Challenge Cup in Saskatoon over the weekend.
After a 4-0 round robin performance, the Broncos won both games on Sunday to wrap up the championship at the 20-team event.
The Broncos scored three unanswered goals over the final 2:15 to defeat the Strathcona Warriors 8-7 in the semi-final on Sunday morning. Jake Hargrave notched the unassisted game winner with 1:15 remaining in regulation. Cade Mitchell picked up the win with 28 saves.
Kasey Gleim and Hunter Wilm both recorded hat tricks. Hargrave and Jaxson Squires each registered a goal and an assist. Jamie Kirwan and Kadyn Olfert both had two assists, while Carter Moen and Ryder Leshures added single helpers.
In the championship game, the Broncos trailed 1-0 before scoring eight consecutive goals in an 8-2 win over the Martensville Marauders. Mitchell made 35 saves on 37 shots to lead the Broncos to the win, while Gleim added two goals and two assists to pace the attack.
Moen scored twice, Kirwan registered a goal and an assist, and Squires contributed two assists. Olfert, Wilm, and Taye Silbernagel also scored. Hargrave added a single helper in the blowout win.