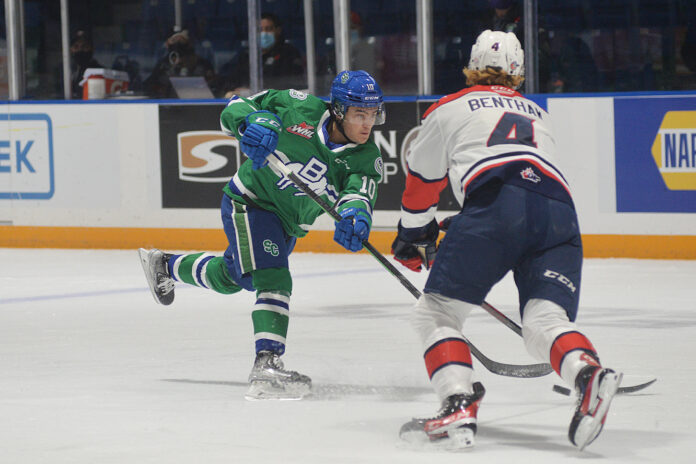 The Swift Current Broncos won their second game in as many nights with an emphatic 7-2 victory over the visiting Lethbridge Hurricanes. After a 10-game losing streak, the Broncos completed a perfect weekend with home wins over Medicine Hat and Lethbridge.
A mistake filled opening period ended with the Broncos leading 2-1. Dinsmore's Joe Arntsen scored the opening goal for the Hurricanes. Caleb Wyrostok replied with a breakaway goal and then Mathew Ward scored on the rush through the five-hole for his sixth goal of the season.
Ward added to the lead 6:01 into the second period when he collected a puck off the end board and finished into a partially open net. Raphael Pelletier gave the Broncos their first three-goal lead with a shorthanded goal on the breakaway, his fourth goal of the season.
Jett Jones scored a power play for the Hurricanes goal late in the second period to cut the Broncos lead to 4-2. The Broncos replied only 29 seconds later when Josh Filmon tapped home a perfect pass from Pelletier to close the period scoring.
The Broncos put an exclamation point on the weekend with third-period goals 25 seconds apart from Rylan Gould and Kayden Sadhra-Kang.
Reid Dyck picked up his first win of the season with 32 saves for the Broncos. Jared Picklyk made 16 saves to fall to 1–1-0-0 for the Hurricanes.
The Broncos improved to 4-7-2-1 on the season. Lethbridge fell to 5–7-0-0 overall.
The Broncos will be back at home on Friday when they host the Calgary Hitmen in the third of six straight home games.