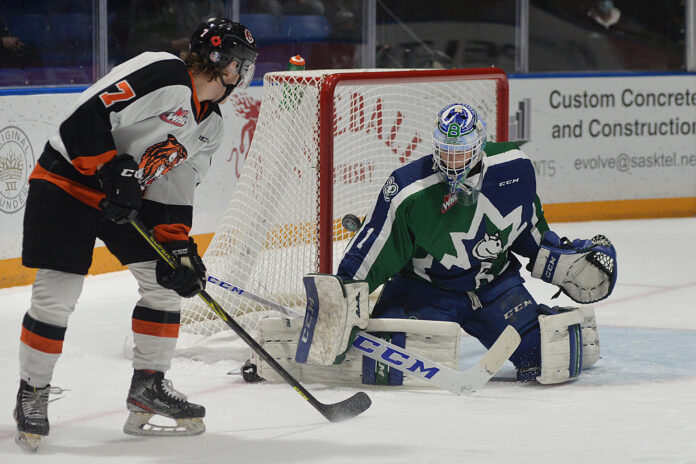 The Swift Current Broncos snapped a 10-game losing streak with a 3-2 win over the Medicine Hat Tigers on Friday.
"As a team we felt it coming," said forward Mathew Ward. "We've had a strong few games even though they're not turning into wins. It definitely feels really good right now. But we have to channel that good feeling and bring it down to tomorrow because it's another two big points on the line."
"I think it was just buying into the team game for the full 60 minutes. Obviously we had times where we weren't there, but we battled through it and stuck with it," added Ward.
Isaac Poulter was simply outstanding in the Broncos goal with 29 saves, including three breakaway saves in the opening minutes of the third period.
"It's no secret he's the backbone of our team. He proves it every night and we're really glad to have him on our team," said Ward.
The Tigers are the only team the Broncos have defeated this season after their third win over their Central Division rivals.
"Honestly I couldn't tell ya. I don't know," Ward replied when asked about the team's success against the Tigers. "I just go out and play the game."
The Broncos took the lead in the first period when Josh Filmon buried his fourth goal of the season from the slot. The Tigers replied only 1:08 later when Corson Hopwo scored on a breakaway shot for a 1-1 tie after one period.
The Broncos were outshot 10-2 in the second period, but the game remained tied 1-1.
The Broncos earned a four-minute power play to begin the third period and capitalized when Ward's point shot found a way into the back of the net for his fifth goal of the season. The Tigers pulled their goalie early and the Broncos added an insurance goal from Caleb Wyrostok. The Tigers were able to score with 44 seconds remaining in regulation but were unable to pull even.
Garin Bjorklund fell to 2–5-1-0 with 20 saves.
The Broncos improved to 3-7-2-1, while the Tigers fell to 4–6-1-1
The Broncos will resume a six-game home stand on Saturday when they host the Lethbridge Hurricanes.
"I think the biggest thing is just the confidence knowing that we can compete with any team in the league. There's no team really we're scared to play against and we'll just try and carry it into tomorrow night," said Ward.