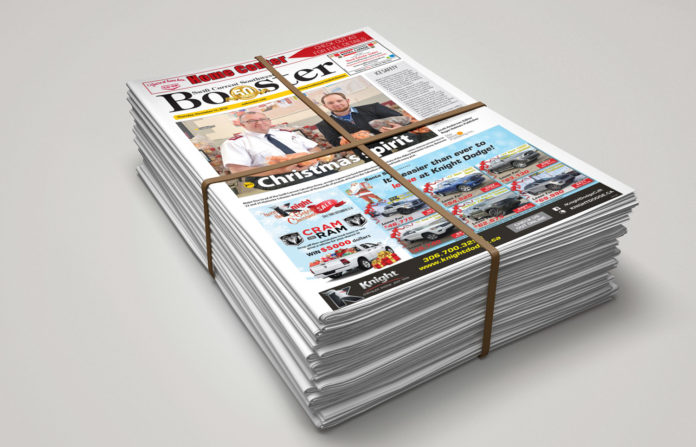 From a 93.3 per cent jump in Carmichael to a -50.0 per cent decrease in Ernfold, the Southwest had a wide range of population changes according to 2016 census data.
The 2016 Census data, released today by Statistics Canada, reflected the population total changes in the five year census span from 2011 to 2016.
Saskatchewan's overall population grew by 6.3 per cent during the census comparison from 2011 to 2016, with the province growing to 1,098,352 residents. This marks the second consecutive census period Saskatchewan's population totals have risen faster than the nation average.
Canada's population climbed to 35,151,728, an increase of 5.0 per cent from 2011 to 2016.
Communities in the Southwest
Community    2016    2011    +/-
Abbey    129    115    +12.2%
Beechy    228    239    -4.6%
Bracken    20    30    -33.3%
Burstall    378    301    +25.6%
Cabri    390    399    -2.3%
Cadillac    92    78    +17.9%
Carmichael    58    30    +93.3%
Chaplin    229    218    +5.0%
Climax    195    182    +7.1%
Consul    73    84    -13.1%
Eastend    503    527    -4.6%
Elrose    496    477    +4.0%
Ernfold    15    30    -50.0%
Fox Valley    249    260    -4.2%
Frontier    372    351    +6.0%
Golden Prairie    30    35    -14.3%
Gull Lake    1,046    989    +5.8%
Hazenmore    70    50    +40.0%
Hazlet    106    95    +11.6%
Herbert    856    759    +12.8%
Hodgeville    172    172    –
Kincaid    111    114    -2.6%
Kyle    449    437    +2.7%
Lafleche    382    406    -5.9%
Lancer    69    61    +13.1%
Leader    863    821    +5.1%
Limerick    115    115    –
Mankota    205    211    -2.8%
Maple Creek    2,084    2,176    -4.2%
Mendham    30    35    -14.3%
Morse    242    240    +0.8%
Neville    87    83    +4.8%
Pennant    130    120    +8.3%
Ponteix    563    605    -6.9%
Prelate    154    124    +24.2%
Richmound    147    154    -4.5%
Rush Lake    53    65    -18.5%
Sceptre    94    97    -3.1%
Shamrock    20    20    –
Shaunavon    1,714    1,756    -2.4%
Stewart Valley    91    76    +19.7%
Success    45    40    +12.5%
Swift Current    16,604    15,554    +6.8%
Tompkins    152    170    -10.6%
Val Marie    126    130    -3.1%
Vanguard    134    152    -11.8%
Waldeck    277    297    -6.7%
Webb    50    58    -13.8%
Rural Municipalities in the Southwest
RM    2016    2011    +/-
Val Marie #17    413    420    -1.7%
Lone Tree #18    150    145    +3.4%
Frontier #19    326    371    -12.1%
Mankota #45    292    322    -9.3%
Glen McPherson #46    72    73    -1.4%
White Valley #49    478    478    –
Reno #51    379    399    -5.0%
Wood River #74    433    324    +33.6%
Pinto Creek #75    283    239    +18.3%
Auvergne #76    412    354    +16.4%
Wise Creek #77    205    157    +30.6%
Grassy Creek #78    364    284    +28.2%
Arlington #79    366    345    +6.1%
Glen Bain #105    180    205    -12.2%
Whiska Creek #106    465    499    -6.8%
Lac Pelletier #107    546    607    -10.0%
Bone Creek #108    394    340    +15.9%
Carmichael #109    444    440    +0.9%
Piapot #110    302    324    -6.8%
Maple Creek #111    1,068    1,154    -7.5%
Shamrock #134    205    227    -9.7%
Lawtonia #135    346    434    -20.3%
Coulee #136    563    582    -3.3%
Swift Current #137    1,932    1,981    -2.5%
Webb #138    541    533    +1.5%
Gull Lake #139    201    201    –
Big Stick #141    136    148    -8.1%
Enterprise #142    110    140    -21.4%
Morse #165    427    401    +6.5%
Excelsior #166    806    959    -16.0%
Sask Landing #167    415    462    -10.2%
Riverside #168    477    490    -2.7%
Pittville #169    208    204    +2.0%
Fox Valley #171    330    345    -4.3%
Canaan #225    140    149    -6.0%
Victory #226    380    443    -14.2%
Lacadena #228    535    572    -6.5%
Miry Creek #229    370    384    -3.6%
Clinworth #230    154    211    -27.0%
Happyland #231    249    284    -12.3%
Deer Forks #232    109    223    -51.1%