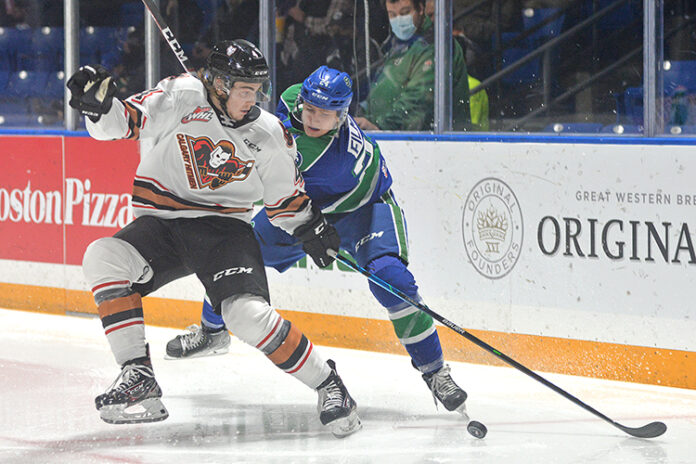 The Swift Current Broncos are now 0-5-2 in their last seven games after dropping a 5-2 decision to the visiting Calgary Hitmen on Friday night.
Calgary did all their damage on the scoreboard in the opening two periods, counting five goals while outshooting the host Broncos by a 30-11 margin after 40 minutes of play.
Sean Tschigerl paced the Hitmen offence with two goals and one assist. Calgary also had goals from David Adaszynski, Riley Fiddler-Schutlz and Blake Allan.
Swift Current got on the scoreboard with 2:25 left in the contest when Caleb Wyrostok batted home a shot past Hitmen goaltender Brayden Peters after a clearing attempt by Calgary defenceman Evan Toth was picked off when his stick shattered.
The Broncos took advantage of a miscommunication in the Hitmen defensive zone when Peters stumbled after coming out to play a loose puck and Bronco forward Josh Filmon made it a 5-2 final just 53 seconds after breaking Calgary's shutout bid.
Peters did improve to 3-3 on the year after stopping 18 of 20 shots.
Broncos netminder Isaac Poulter gave up five goals on 38 shots and now boasts a 2-3-1 record.
Swift Current is now 1-3 on home ice and falls to 2-5-2-0 overall while sitting last in the six team Central Division. Calgary has now won two straight and is 3-3 on the year.
The Broncos now has the remainder of the weekend off as they prepare for a home and home series against the Regina Pats next weekend. The Broncos host the Pats on October 29 before making the return trip to Regina on October 30.