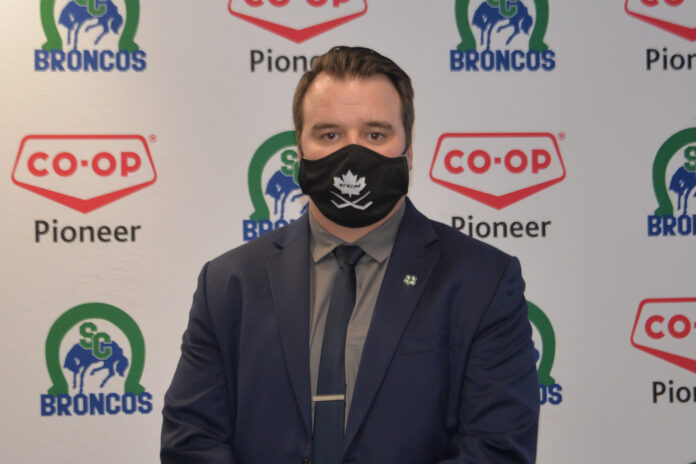 The sudden departure of Dean Brockman has created the opportunity of a lifetime for Devan Praught, who was named the interim head coach after Brockman stepped aside only five games into his fourth season as the helm of the Swift Current Broncos.
Praught said it was a bittersweet moment when he was announced as the interim head coach on Thursday.
"I developed a relationship with Dean. Forever grateful for the opportunity, the roles and responsibilities I've had from day one and just developing that relationship. You feel like you're losing a friend walking out the door. At the same time it's a dream come true this opportunity that I have in front of me. So just looking forward to getting to work."
Praught has only been with the Broncos for a few months and has only five games of Western Hockey League coaching experience.
"I think I can relate to the guys. At Notre Dame we had players from all over the world. We had to bring them in, get a common goal, a common purpose behind them, gel them as a team. I think I'm a motivator. I'm all about relationships with the guys, getting to know them, and then holding them accountable to standards. They're the ones using the language of playoffs, so that gives me the green light to hold them accountable to those standards of what it takes to be playoff team."
Praught's first year of coaching was with the University of Prince Edward Island as an assistant coach while finishing his education. He then moved to Athol Murray College of Notre Dame in Wilcox where he coached at the Midget level, including the previous five seasons with the AAA Hounds. He won back-to-back Saskatchewan Midget AAA Hockey League championships and a Telus Cup national championship in 2018. He was named the SMAAAHL Coach of the Year in 2017 and 2018.
His coaching experience also includes time with Team Saskatchewan, the Canada Games, and the 2019 WHL Cup.
Praught said he learned plenty from Brockman during their brief tenure together.
"I think as a group that's what you want to see from your young guys. They're taking ownership from their performance in the way that we compete every night. From Dean, he's just such a people person, relatable. He really mentored me here through my first time going through this process. I'm forever grateful."
He hopes the coaching transition will go smoothly for a young team that includes three 16-year-olds and eight 17-year-old players.
"I think that's part of the benefit of working here so closely with Dean to start. It's going to be a bit more of a seamless transition. We're not going to change a whole lot of things. We like the culture that we have in the room. We like the direction that we're going. We like the way the boys are practicing, the way we're competing and giving ourselves an opportunity at success every night. We're trying to find our process of what that is and what that looks like. I've made relationships with these guys early and looking forward to being the man in charge."
Praught will make his WHL head coaching debut on Saturday when the Broncos visit the Brandon Wheat Kings.