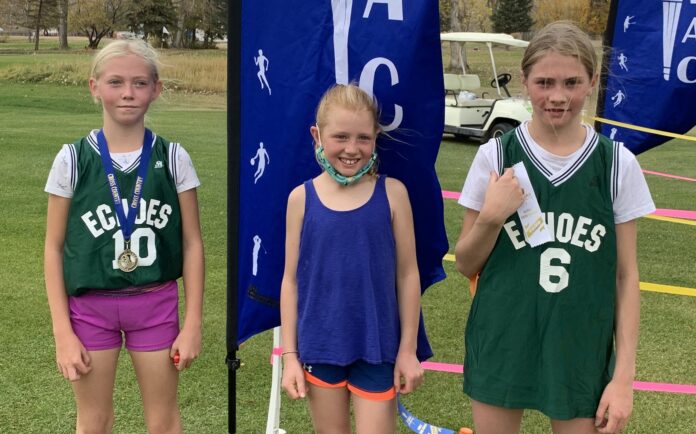 On Wednesday October 6, the SWAC Cross Country district championship was held on the Eastend Streambank Golf Course on a perfect day for the 70 runners from grade 4-12 to compete in the event.
The Intermediate, Junior, and Senior runners all qualified for SHSAA Provincials, which will take place on Oct. 16 near Humboldt.
Pee Wee Girls
1st Claire Topham (Eastend), 2nd Julie Allen (Hodgeville), 3rd Scarlett Pole (Eastend).
Pee Wee Boys
1st Jesse Olson (Stewart Valley), 2nd Gavin Dueck (SPS), 3rd Ryder Jorgensen (Vanguard).
Bantam Girls
1st Rory Jorgensen (Vanguard), 2nd Sienna Watson (Cabri), Surry Lamotte (Ponteix).
Bantam Boys
Tristen Perrin (Stewart Valley), 2nd Bailey McDonnell (Cabri), 3rd Tyson Anderson (Cabri).
Intermediate Girls
1st Isabelle Gottselig (SCCHS), 2nd Hannah Ulm (Ponteix), 3rd Kate Erickson (Cabri).
Intermediate Boys
1st Grayson Arendt (SHS), 2nd Jaydon Skrumeda-Sawby (Maple Creek), 3rd Russell Pole (SHS).
Junior Girls
1t Amora Gatzke (SCCHS), 2nd Dakota Jorgensen (Vanguard), 3rd Tia Lacelle (Cabri).
Junior Boys
Robert Winter (Rock Solid Refuge).
Senior Girls
1st Hillary Lacelle (SCCHS), 2nd Greta Lopeter (SCCHS).
Senior Boys
1st Elijah Nicholas (Vanguard), 2nd Noah Schramm (Rock Solid Refuge), Riley Desautels (Cabri).
In 12-man football, the SCCHS Colts had a bye in week five, so their next scheduled league game will be at home on Oct. 16 vs Weyburn.
The SCCHS Ardens soccer team will play Yorkton Sacred Heart in the MJ league semifinals on Tuesday, Oct. 12 in Moose Jaw. The team has won 11 consecutive Moose Jaw league titles and are determined to add a 12th title.
The SCCHS Colt soccer team lost their quarter final league playoff game 4-3 to Moose Jaw AE Peacock. The Colts will now have a couple weeks to rest and recover from illness/injury before they start SHSAA playoffs.
In 9-man league football action, Maple Creek defeated Notre Dame 33-6 and Gull Lake lost to Lumsden (20-7) on Oct. 7. Shaunavon hosted Indian Head on Friday, Oct. 8. The Shadows lost that game 45-21.
Week five is last of the scheduled league games. On Friday, October 15 Shaunavon travels to Lumsden, Maple Creek hosts Indian Head, and Gull Lake is on the road to Notre Dame.
SWAC Senior Volleyball Leagues continue into the fourth week of play. Start times for matches are dependent on travel distance. Limited spectators pass cards (two per participating athlete) for both teams are allowed in advance.
Girls play Tuesday, Oct. 12 (host site: Frontier, Ponteix, Vanguard). Boys play Wednesday, Oct. 13 (host sites: SC, Cabri, Shaunavon).