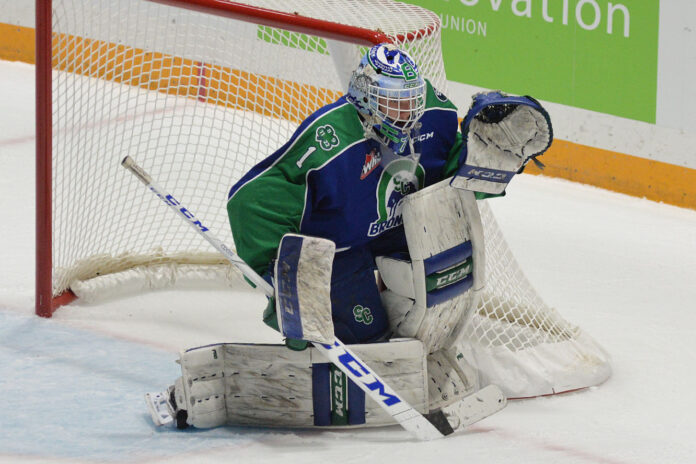 The Swift Current Broncos shutout the visiting Medicine Hat Tigers to open the 2021-22 Western Hockey League regular season.
Overage netmider Isaac Poulter made 20 saves as the Broncos defeated the Tigers 2-0 on Friday.
"I think it's something everyone has been waiting for for quite some time now. It was a great feeling for us and I hope the fans feel the same way," said the fourth-year Bronco netminder.
"It feels really good. To be honest, I hope it makes everyone feel good about the game. I think the game can be a distraction from what's really going on in the real world. We just want to give some people some joy so it makes us really happy," added Head Coach Dean Brockman.
The Broncos took the early lead when Mathew Ward found a loose puck in the slot and fired it home from the right hash mark on the power play midway through the first period.
They doubled the lead early in the third period when Carter Stebbings fired home a centering pass to put the Broncos up 2-0.
"We played awesome. I probably could have had 40-50 shots but we ate so many pucks in front. It was pretty easy for me to play tonight," explained Poulter.
Poulter made 20 saves for his second career shutout for the Broncos. "I felt really good. There's some stuff I obviously need to fix, but my game has come along well and I hope I can keep it up for the rest of the season."
Garin Bjorklund took the loss with 21 saves.
The two Central Division rivals will rematch on Saturday back in Medicine Hat. The Broncos are back at home on Tuesday to face the Red Deer Rebels.
"We're one team. It doesn't matter that I got shutout tonight. We all scored, the Broncos win, that's all that matters. I think it will be a good season. We have a lot of young talent and it should be really good," said Poulter as he looked toward the long season ahead.