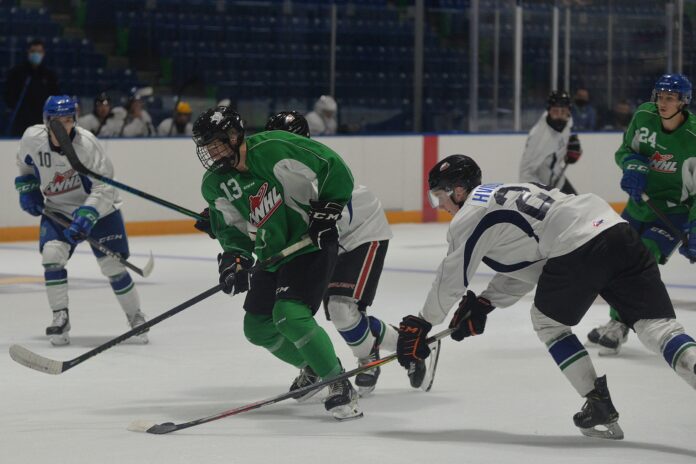 The Swift Current Broncos finally returned to their home ice this weekend for the opening days of their annual training camp.
The players reported on Friday and had their first on-ice sessions on Saturday, which will be followed by the annual Black and White Game on Tuesday.
"I think camp is going really well," said Broncos Head Coach and Director of Hockey Operations Dean Brockman. "I think that a lot of our young guys that we've drafted and brought into the fold have looked really good. I think some of the guys that played in the Hub last year are a little bit more advanced than maybe some of the guys that weren't. The good thing is I think everybody came in in great shape and they are ready to go. There will be some interesting battles for sure."
The training camp roster included 16 players from the abbreviated 2020-21 Hub season and all 11 prospects from the 2020 draft class.
"The 05s being here it's definitely kind of an eye opener for some of them just to play against some of the older guys with the strength and with the pace. It's exciting just to see them get out here and just to have them all under one roof is a good thing," said Brockman, who is now entering his fourth season at the helm of the Broncos.
Decisions will need to be made quickly with the exhibition season set to begin this week.
"It is because the time frame is just a little bit shorter. Obviously we want to get some guys in some games before we either send them back or just outright release them. With only four exhibition games you have to make some decisions pretty quick."
Camp is noticeably smaller without 15-year-olds in camp after the 2021 WHL Prospects Draft was postponed to allow further scouting opportunities. The smaller size has altered the evaluation process for Brockman and his staff.
"Yes and no. Because the competition is really close you don't have maybe some seperation in certain areas. It's small, but it's just sort of the time and we're a little bit later than normal when you have other kids already in their programs. It creates a lot of healthy competition for sure."
The Broncos finished with a 6-16-2-0 record last season in Regina. They return goaltenders Isaac Poulter and Reid Dyck this season.
"The tandem that we had in the Hub was really good. That's probably what we're going to go forward with. Jacob Herman makes things interesting though because it gives you depth. I think our other young guys aren't quite there yet. It's kind of a three-headed monster and it's a good problem to have. We'll see what we need to do if maybe we need to shore up another area by using one of those guys."
Sunday's scrimmages also featured a first look at defenseman Rayan Bettahar, a 6'2'' German who was selected fifth overall in the CHL Import Draft.
"For a guy that had a 16-hour day just a couple days ago. He's doing alright. He's as advertised. I think he's a big guy that plays big and moves the pucks in the right direction. We're happy with him. I think guys are realizing that he can be a pretty good defenseman."
The Broncos will open their four-game exhibition schedule on Friday when they host the Moose Jaw Warriors at 7 p.m. They will also visit the Warriors on Saturday.