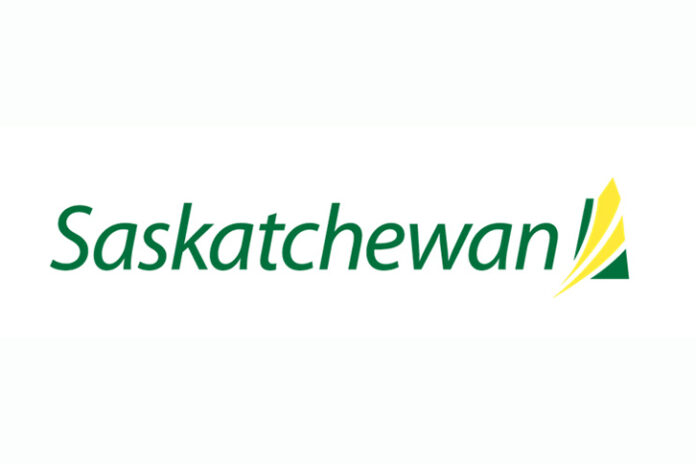 The provincial government is making it easier for low yielding crops to be utilized for cattle feed during the challenging conditions which exist as a result of an extended period of hot and dry conditions.
Saskatchewan Agriculture Minister David Marit announced on July 14 that effective immediately damaged crops can be put to an alternative use such as silage, bailing or grazing.
Marit is hoping that grain producers and neighbouring livestock producers can work together to quickly make this feed supply available. With the appraised yield of many crops at or near falling below the established threshold levels where the yield is reduced to zero, Saskatchewan Crop Insurance Corporation is doubling the Low Yield Appraisal threshold values for customers who salvage their cereal or pulse crops as feed.
"Obviously what we're seeing is that there virtually is no feed. There wasn't much of a hay crop. I talked to producers in my constituency where they're getting a third of a ton to the acre. Some places they're not even cutting
it. The challenge is around that even around some of the crop side is just that the crop is deteriorating every day. So obviously there is an opportunity here for the grain producer to look at his crop and say you know what, I can salvage this for greenfeed to some cattle producers and take that option at the 10 bushel write off and take that to zero and work it out that way," explained Marit, who sits as the MLA for Wood River.
Marit noted that for Crop Insurance customers wanting to utilize a grain crop for feed, the threshold will now be 14 bushels per acre. In this case, a zero bushel yield would be used for the claim and the original 14 bushels would be used to update future coverage.
"The announcement today has to be more about what is needed today, not 18 months from now when Ag Stability would kick in," Marit said.
"We feel this announcement today will obviously help quite a few livestock producers in sourcing feed. I don't think this is just a Saskatchewan issue. I think this is a Western Canada issue, it's even a mid Western United States issues as well is going to be accessing feed. So felt it was very important that we did this announcement today."
"I'm hoping that this announcement is soon enough, that we've achieved what we wanted to achieve for the ranchers to look out there and say… now I can talk to my neighbours, I can see his crop isn't going to do this, see if he wants to salvage it for green feed or whatever the case may be. So those discussions will go on."
"I think it's important that we did this in this timely fashion to allow both to make a decision if there's an opportunity. Maybe there will be a case where some ranchers will have to disperse with some of their herd. We're just hopefully that we can salvage a good chunk of it."
With Saskatchewan in the midst of its third heat warning since the start of summer, moisture conditions on cropland and pastures continues to worsen, with little relief in sight.
"It is serious out there. I did drive the Southwest in the first part of July and I saw a crop that probably isn't even going to head out. It goes from that to some areas where you see a pretty good crop. And that's kind of what we saw with the rains. Some people got an inch of rain two weeks ago, and some didn't get any. So there's pockets out there that the crop is going to be an average crop. The big crop in some parts is gone. But I have seen devastation where there virtually is not much left."
Marit added he was speaking to a young rancher who was seriously considering selling off a portion of his herd so he could salvage the feed side.
The province also announced temporary changes to provide more funding through the Farm and Ranch Water Infrastructure Program (FRWIP). Presently FRWIP costs are funded at 50 per cent of eligible costs to a maximum rebate of $50,000 over the lifetime of the program. For the period of April 1, 2021 to October 31, 2021, the maximum rebate for livestock producers will triple. The first $50,000 will be based on a 50/50 cost share basis, and the remaining $100,000 will be on the 70/30 government/producer cost share basis.
"This will further help with the development of secure, sustainable water sources for the livestock producers," he said.
Marit encouraged producers to contact the regional specialists working out of any Saskatchewan Agriculture regional office to receive information on alternative feeding strategies, pasture management, assistance with water testing, and the interpretation of feed and water test results. They can also help find solutions regarding water pumping and equipment rentals.
"The biggest thing we're hearing is the shortage of feed and the concerns about water as well. Obviously we've had challenges around water quality and even water availability. That's why we really felt it was important to address those two needs."
Jeff Morrow, Acting President and CEO of Saskatchewan Crop Insurance Corporation, was hopeful Wednesday's announcement would help provide relief during the tough conditions.
"The crop's in a tough spot, and this really we hope will make more livestock feed available with the changes that the Minister announced today to our program. We are hearing from producers for sure on the need to access some of this crop for livestock feed."
"The best advice that I can give is that if you want to do something else with your acres, put them to this livestock feed, is call us first. Talk through the options. But as the Minister said we will work with producers, we will be flexible, making sure that we're not getting in the way of what they need to do. Because I think we also acknowledge that with each day of the heat and the dry conditions the crop is deteriorating. So we want to make sure that our processes aren't getting in the way for producers to do what they need to do about those crops."
Producers are reminded to let Crop Insurance know soon what their intentions are in order that Crop Insurance can send an adjust out as quickly as possible. Producers can also leave check strips for Crop Insurance adjusters to evaluate. If producers are putting livestock into a quarter section or half section of crop because it is too short, the would have to find some way of blocking out a portion of the field, using a bale feeder or some other option, to block out some of the crop so it is not accessible to the animals so that adjusters could adjust at some point.
"We don't want to stop them for an hour, or a day. We want them to get going as soon as they can."
Merit stressed that he feels producers have a good suite of programs like Crop Insurance, forage insurance, livestock price insurance, which combine to mitigate a lot of the risk for producers.
"I think our base structure of our bank programs in the province of Saskatchewan are second to none. I'm very proud of what we've done as a government to enhance crop insurance and forage insurance and livestock price insurance, and bring things like that in. I think we've really helped the industry mitigate a lot of the risk."
Regardless of the insurance programs in place, Merit hopes the province does not have to endure another year of border to border dry conditions.
"I hope we never have another year like this where it is such a vast area of the province that is experiencing a lack of moisture. And the biggest thing is we didn't see any spring runoff, we didn't see the water quality, and virtually not much rain in many parts of the province. So I'm hoping this is a one time thing."
"Agriculture pulled us through 2020 by growing a record crop again. Now mother nature has dealt us this hand that we're dealt. We as government can only try to work with the industry, and try to mitigate a lot of that risk, and I think we're doing it with this program. Really it's the livestock sector as a whole that's really hurting in this one. The crop guys, sure they're hurting…but there's programs in place for them to mitigate their risk. This is really about feeding animals."