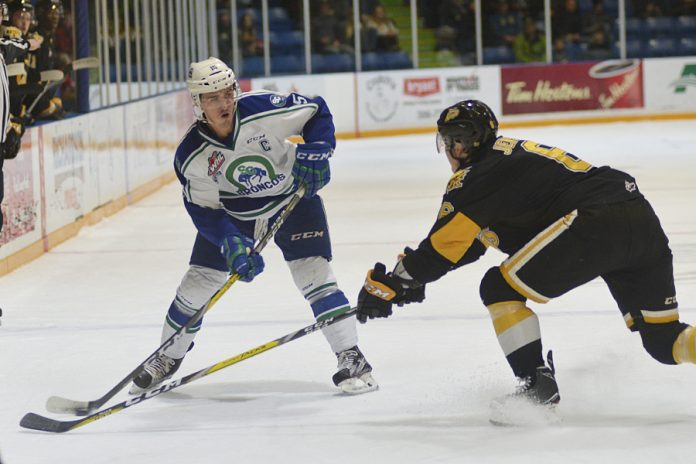 With the Brandon Wheat Kings breathing down their necks in the East Division playoff race, the Swift Current Broncos earned some breathing room with a 4-1 win over the visiting Wheat Kings Saturday.
Tyler Steenbergen scored twice and Jordan Papirny made 28 saves against his former team to move the Broncos six points ahead in the standings for third spot in the East Division.
"We knew they were coming right on the heels of us in the standings, so we knew it was a big four-point night for us. We could either gain a couple or lose a couple," explained Steenbergen. "We fought our way, came out hard. We knew they had a big game last night, so we wanted to put pressure on them at the start. We thought we did a pretty good job of that tonight."
It was the recently recalled Brandon Arnold who opened the scoring in the first period when he banked a rebound off goaltender Logan Thompson from a bad angle for his third goal of the season. Steenbergen made it 2-0 before the end of the period when he ripped a puck past Thompson from the slot.
Steenbergen scored the only goal of the second period on a breakaway, his 39th goal of the season to sit second in the WHL.
"I have to give my linemates [Glenn Gawdin and Ryley Lindgren] credit, they were getting me the puck. We were getting lots of chances early and we didn't quite get a goal at the start. We stuck with, kept grinding, and it paid off for us in the end. It is nice getting those two but anyone on the line can score and that's always a good thing."
Tyler Coulter scored for Brandon early in the third period, but Lane Pederson answered on a beautiful saucer pass from Aleksi Heponiemi for his 19th of the season. Heponiemi extended his point streak to 11 games, with 22 points over that span.
The Broncos improved to 27-17-3-5 in their second straight win. Brandon dropped to 25-19-4-2. The Broncos had lost six of seven games prior to their two wins this week.
"I think we are just doing all the right things now," said Steenbergen. "Our practices have been a lot more uptempo. Our workouts have been a lot better. We are all buying into the systems right now and we weren't really doing that before. We are doing a good job of all that kind of stuff."
The Broncos are off until Wednesday when they visit the Edmonton Oil Kings to open a three-game Albert road trip.