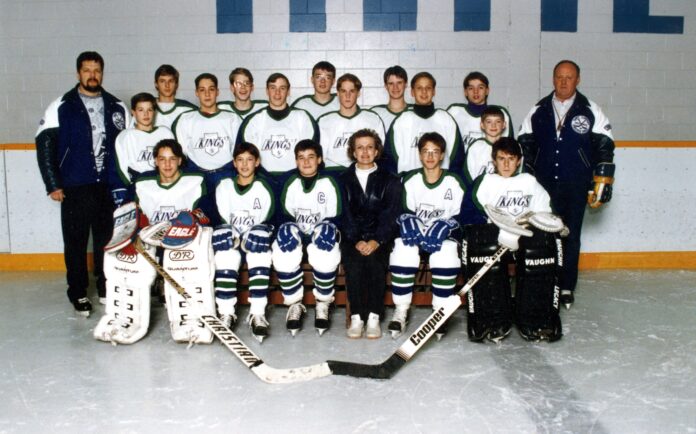 It has been over 26 years since Patrick Marleau last played a minor hockey game in Southwest Saskatchewan, yet memories of his time on the ice remain fresh in the minds of former friends, teammates, and coaches.
The Aneroid native recently passed Gordie Howe on the National Hockey League games played list and the remarkable achievement certainly brought back memories for many in the area.
Marleau spent his formative years playing closer to home in Aneroid, but by 1991 he would make the trip into Swift Current to play with the Peewee Kinsmen Kings before one-season stints with the Bantam Rotary Raiders and the Midget AAA Legionnaires.
Les Schwartz coached Marleau for two seasons with the Peewee AA Kings.
"He was always a great skater. But I think the biggest thing was he could see the ice really well and handled the puck well. I just remember him doing things with the puck on his stick that a lot of other kids at that age couldn't do. He was a pretty talented kid."
Kevin Leshures was a rookie forward with the Kings in 1992-93 during Marleau's second season in Swift Current.
"As much as any 12-year-old could tell, you knew Patty was going to go somewhere. You knew he was good. He was our best player. He was our captain. Probably the one thing I remember was that the coaches would sometimes get on him because they didn't feel like maybe he was working hard enough. But it was just that he was so smooth. You would get in a drill with him and they were mad at him because he's not working, but he's still the first done, he's always winning every skating drill because he was just so smooth, it just didn't look like he was trying," Leshures noted.
"Yeah he showed up at tryouts with the Kings out of Aneroid. Basically from the day he stepped on the ice you knew he had talent because he was such a smooth, smooth skater. I guess that was his biggest asset was that he was way ahead of a lot of other people when it came to skating," noted Schwartz.
"We worked a lot," said Schwartz of his two seasons coaching Marleau. "Hockey, as we all know, is a game where you can have skill but you still have to learn how to play it. He was one of those kids that was easily coached. He wanted to get better. He didn't have an ego or nothing like that. He was just one of those kids that wanted to play and have fun and enjoyed the game and learn at the same time."
Leshures said one moment stuck out from a tournament game that season.
"I remember the other team had this guy and he was good, but he was good because he was huge. He was a big dude and he kept trying to take liberties with everybody. He tried to get a piece of Patty and Patty laid him on his ass. It was not where Patty necessarily took over the game, but it was a definite momentum swing. This guy that everyone was scared of on the ice just got put on his ass… Patty was a decent sized kid, but he was so strong on his skates."
Marleau is now 50th all-time in NHL scoring with 1,197 points in 1,770 games. The 6'2'' forward has remained a fixture in the NHL due to his blend of world-class skating, skill, and size, but his exploits on the ice in Swift Current have almost taken on a Paul Bunyan-esque quality. His Bantam stats have been incorrectly attributed to his underage Midget season by one local media outlet in recent years. Stories from locals seem to have him frozen in time at over six-feet tall even as a youngster.
"He definitely wasn't our biggest guy that's for sure. With Patty I always noticed his strength. He was strong and he was strong on the puck," noted Leshures.
"Everybody talked about his skating. When he was little he was always one of the strongest, fastest skaters on the ice. When he was younger he wasn't actually a very big guy. He was probably below average in size, so his skating was what set him apart back then," explained long-time teammate Todd Hornung. "He had a big growth spurt there probably right after his Midget year when he went to Seattle. Then he had the skating to go along with the big body. That changed things for him."
That 92-93 Peewee Kings team featured six future WHL players as goaltenders Dustin Schwartz and Garnett Stevenson and defensemen Scott Schoneck and Randall Dyck all made it to the Major Junior level to go along with Marleau and Hornung. The Kings lost to Prince Albert at the Provincial Tournament that season.
That would be the only season Leshures played with the future NHL All-Star as Marleau played only one season with the Bantam Raiders before jumping up to play with the Legionnaires.
Leshures said years later he marvelled at the strength and skill Marleau displayed while practicing with the Legionnaires, skating around with a puck on the blade of his stick, holding the stick with only one hand and flipping it back and forth.
"I remember looking at that back then and saying, 'Holy crap, that's crazy!' Then watching him and the way he did stuff on the ice, just watching him in that practice the way he would practice and work on something. He did the same thing a whole bunch of times."
Schwartz moved to Stettler, Alberta shortly after coaching Marleau and his son Dustin had a lengthy career in the WHL and with the University of Alberta Golden Bears. He is currently the goaltending coach for the Edmonton Oilers
"Unfortunately I've never had the opportunity to be in Edmonton when San Jose was there to try and hook up with him and have a visit. We always have followed him. He's had a pretty consistent career where he's basically a 20-goal scorer since he's been in the NHL. When you coach someone like that you always want to see them achieve and you always follow them," said Schwartz.
Hornung, a hockey prodigy in his own right, is likely the local player most closely associated with Marleau. One year younger, Hornung grew up only five miles away from Marleau and they spent much of their youth on the ice together.
"We started so young playing together that it was always just about playing and having fun. You can go back and look at old stat sheets and he always led every team in scoring with goals. He was always standing out that way. I think it was when he got to Seattle that we really knew that he was going to make a long go of it. That's where things seemed to really changed for him," said Hornung.
Marleau was drafted sixth overall by the Seattle Thunderbirds in 1994. One year later Hornung was the fifth overall pick by the Portland Winterhawks.
"I remember that summer and he got drafted by Seattle and we were playing ball together in the summer in Vanguard. He set the bar and you were always kind of chasing it to try and keep up. Eventually it got to the point where a lot of guys just don't keep up with him anymore. He definitely set the bar for a lot of guys our age to keep up with," explained Hornung.
Hornung broke into the league at 16 with Portland and Marleau was dominating the WHL at 17 with Seattle that season. "We must have played them 16 times that year, so we crossed paths a little bit there. I was just kind of breaking into the league and he finished I think third in the league in scoring that year."
Hornung played three seasons in Portland before stints with the Lethbridge Hurricanes and Swift Current Broncos. He also spent time in the SJHL with the Flin Flon Bombers and played one season for the University of Saskatchewan Huskies. He has also become a successful coach in Swift Current in recent years, including a provincial championship with the Midget AA Broncos while coaching his son.
Despite their long and winding hockey careers, the origin stories of Marleau and Hornung remains intertwined back to the small town rinks of Southwest Saskatchewan.
"One of the things we actually texted about the other day was when we won an Atom title. We actually have video of that game. I remember he scored three or four goals in that final game and kind of won it for us. You go through all this hockey and we talked the other day and that's the first thing he brings up is an Atom title," said Hornung.