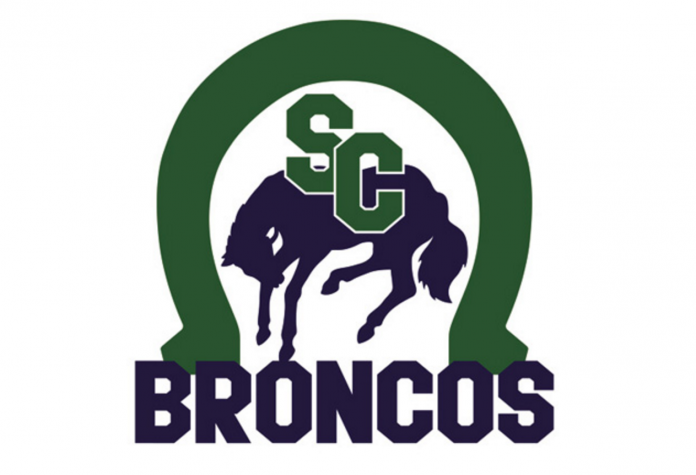 The Swift Current Broncos allowed three goals over the final 3:58 of action in a 6-5 overtime loss to the Saskatoon Blades on Wednesday.
Only minutes away from a second straight win, the Broncos allowed two goals over the final 3:29 of regulation before Tristen Robins completed the comeback victory with an overtime breakaway goal for the Blades, who improved to 6-0-1-0 to lead the East Division in the Subway Hub Centre in Regina.
The two teams combined for five goals during a wild opening period when both teams had plenty of scoring opportunities. The Broncos were outshot 17-6, but emerged with a 3-2 lead.
The Broncos were slow out of the gates and fell behind early when Chase Wouters scored only14 seconds after the opening puck drop. Broncos overage defenseman Owen Williams quickly responded with his first goal 54 seconds later as he beat his man and outwaited the goaltender for a highlight reel goal.
Caiden Daley restored the Blades lead at the 6:11 mark when he converted a centering feed for his third goal. The Broncos equalized again 1:35 later when Michael Farren joined the rush and scored on a two-on-one shot to the blocker side for his fourth goal. The Broncos took their first lead when rookie Josh Davies showed off his speed for a breakaway five-hole goal with 4:13 remaining in the period.
The teams traded power play goals in the second period, beginning with a Robins goal on a perfect top-corner wrist shot from the top of the face-off circle to tie the game. Davies gave the Broncos a second lead with a power play goal on a low wrist shot to the glove side.
Rookie Josh Filmon gave the Broncos some valuable breathing room in the third period as he collected the puck off an offensive zone face-off and fired home his first WHL goal.
The Blades cut into the lead with a Blake Stevenson goal on a high shot from a bad angle and then Aidan De La Gorgendiere tied the game with 43 seconds remaining in regulation with a seeing eye point shot with the goaltender pulled in favour of an extra attacker.
Isaac Poulter took the overtime loss with 35 saves on 41 shots. Nolan Maier improved to 5-0 with 15 saves on 20 shots for the Blades.
Both teams finished one-for-two on the power play.
The Broncos (1-5-1-0) will return to action on Friday when they face the Winnipeg Ice (5-1-0-0) at 8 p.m. in Regina.