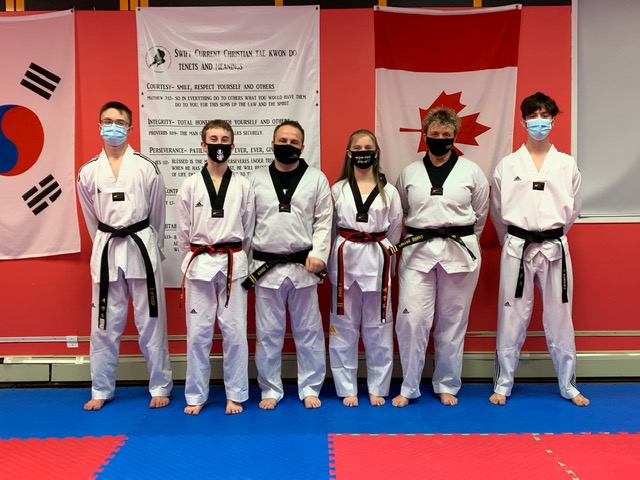 Swift Current Christian Taekwondo has six new black belts in their midst, after a rigorous testing process on March 20.
"I'm very proud of these students," said Head Instructor of Swift Current Christian Taekwondo, Gary Voysey. "They have been training with us for many years. Their hard work and perseverance has certainly paid off."
Individuals that tested for new black belts and were promoted included: Carrie Voysey (3rd degree), Steve, Logan and Callie Ebner (2nd degree), Carlos Marquez Peralta (1st degree) and Ethan Klassen (1st degree)
"The black belt represents all of the various concepts of each belt color," said Voysey. "It shows commitment, physical achievement and mental determination. It symbolizes a relentless pursuit of personal development and growth with consistency, sweat and humility. These individuals are very deserving of their belts."
The black belt test was held at Swift Current Christian Taekwondo's dojang. Voysey, who holds a 4th degree black belt and is considered a Master instructor of the martial art, along with Master Michelle Keith of Artisan Taekwondo in Regina, were the main evaluators for the test. Master Keith watched the test via Zoom. "We had to do a few things differently due to COVID protocols," explained Voysey. "But, we managed to adjust and make sure the criteria were integrated and graded appropriately."
Swift Current Christian Taekwondo is host to about 130 members and has served the southwest for over nine years. They offer a variety of online and face-to-face classes and programs for all ages. For more information or to sign up for a trial class, visit www.christiantkd.com.