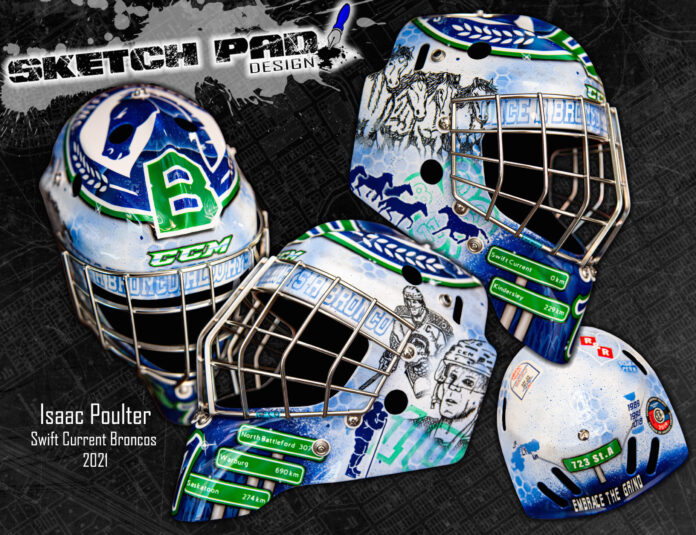 Isaac Poulter's pride and passion were undeniable when asked about his new custom mask. The Swift Current Broncos third-year netminder worked closely with local designer Curtis Schwartz to create a moving tribute to the late Colby Cave as well as the four Broncos killed in the 1986 bus crash.
Cave, a former Broncos captain and member of the Edmonton Oilers, died suddenly last April.
"We have the captaincy wall in our room and he was on there for a couple [seasons] I believe. You always see that name and when you walk down the hallway to go the dressing room there's the pictures of all the Broncos that played in the NHL and he's up there towards the end so you can see that stuff. That's just a name you know from looking at the stats and on the walls I saw his name everywhere. I heard from the town that he was a really good guy and a really good player. I thought I should do something for him being a Bronco too," explained Poulter.
Trent Kresse, Scott Kruger, Chris Mantyka, and Brent Ruff were all killed in a bus crash on December 30, 1986. The Broncos still wear a four-leaf clover patch on their jerseys with the numbers of each player.
"I think it's a big thing for the team overall and really big for our history knowing what we've came through as a team. When you get drafted you look up the jerseys and look up a little bit about the team and that's one of the first things you are going to see. It's on our jersey, it's in the room, you know about it when you're here. The last two years we've went and looked at the memorial and spent some time there as a team," explained Poulter.
The new mask has been almost a year in the making for Poulter and Schwartz.
"I thought it turned out way better than I ever thought it could," said Poulter. "We started planning it a little bit after the season last year. There's been a lot going on and with the anniversary a couple years ago and the memorial was put up for the bus crash, then with Colby Cave passing we thought we should do something pretty special. We got some pictures together and had the ideas and started working on it, the layout, and all the little hidden messages in it that we decided we wanted to put in."
"Isaac was a huge part of it. We initially talked about it last year. He brought me a pretty structured design as to what he was looking for," added Schwartz. "He knew exactly what he wanted. Him and I worked quite closely together on this one, probably the closest I worked together with a goalie yet on a mask. He had a big part in it."
The mask is filled with tributes to Cave and the Four Broncos. Among the most noticable are the five green and white highway signs recognizing the distance between Swift Current and the five players' hometowns.
A silhouette of Cave leaning on his stick on the ice after his final game with the Broncos also stands out.
Perhaps the most poignant element is the silhouettes of four horses welcoming a fifth horse to the herd.
"My favorite part that was kind of an added piece that Isaac and I talked about was actually having the four horse silhouettes with the fifth joining them to represent the four past guys welcoming Colby in as one of the group. It just kinds of adds that welcoming aspect to it and connects both stories really," explained Schwartz.
"I really like the silhouette of the four horses meeting the fifth one for Colby. I thought that was one of my favorite things. And then the little silhouette of him in his last game as a Bronco with the halo and angel wings was really special to me too. I think all the meaning of having Colby on there and the four Broncos is really special to me at least being drafted here and playing here the last three years," added Poulter.
"He originally wanted the four past players as faces, but we decided to change it to horses to represent them a little bit differently," explained Schwartz.
Schwartz has produced approximately 25 masks through his company Sketch Pad Design since getting started with his own mask in 2017. He has designed masks for Stuart Skinner and Joel Hofer and this is the second mask he has painted for Poulter.
Schwartz figured he probably had between 32-40 hours into the mask. "The sketching took a little bit longer. Usually if you are just painting it's a little faster, but actually having to hand draw and put different things in it takes a tad bit longer."
The process was also slowed down by the pandemic and the uncertainty of the 2020-21 season.
"This one took a little bit longer than planned. As far as sitting down and painting it I probably got it all done and painted in about two weeks. It was pretty quick that way."
The mask took on a deeper personal meaning for Schwartz, who got to know Cave a bit when his brother in law, Andy Blanke, played with him during the 2011-12 season.
"It was one of those ones where you want to make sure you're doing it right," he admitted.
The mask was completed just in time for the 2020-21Western Hockey League season, which is being played at the Subway Hub Centre in Regina with no spectators.
"When we got back to the rink after the quarantine in the dorms all the guys were looking at it and thought it was pretty amazing. I was really glad and I was just amazed at how well it turned out. I had seen some of the pictures, but seeing it in person was definitely something else too," said Poulter.
The Broncos plan to honour Cave during Saturday's game against the Moose Jaw Warriors and will be announcing some exciting plans surrounding the mask at that time.