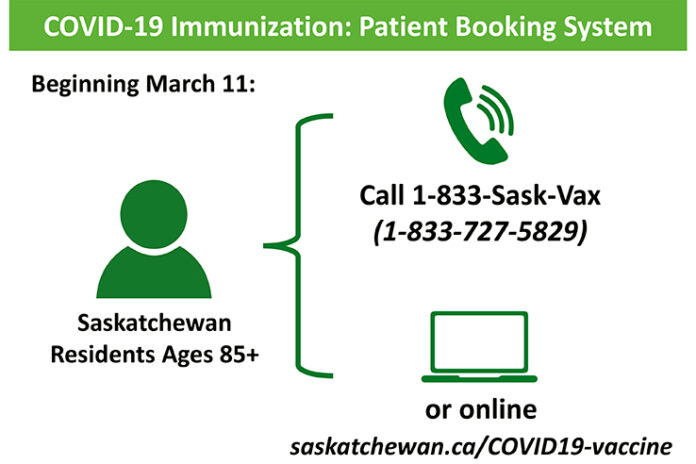 Saskatchewan residents aged 85 and older will be able to access the COVID-19 vaccination appointment booking system effective 8 a.m. tomorrow (Thursday, March 11).
Both the online saskatchewan.ca/COVID19-vaccine booking system, along with the telephone booking system 1-833-SASKVAX (1-833-727-5829), will be launched starting Thursday morning.
"The pace of the vaccine deliveries to Saskatchewan will be picking up significantly in the coming weeks, but we still expect demand to exceed supply. So appointments will fill up very quickly, and we may run out of available appointments in some times in some location," explained Health Minister Paul Merriman while unveiling the details of the booking system earlier this afternoon.
All individuals booking appointments online are required to have a valid Saskatchewan health card, plus either a valid email address or cell phone number. The telephone booking system can be accessed by people who do not have a current Saskatchewan Health Card and are without a cell phone or email account. Family, friends and neighbours can assist in booking appointments, but they will need to have the proper information to do so.
The booking system offers over 100 different locations where individuals can access the vaccination, with the intention that people will not have to travel too far in order to receive a shot. When a community clinic is full it will be removed from the booking site.
The phone system boasts a booking capacity of 6,000 bookings per day and is operational from 8 a.m. to 11 p.m. seven days a week, while the online booking system is the fastest way to book appointments and is available 24/7.
Because of the limitations of the booking system, the public is cautioned not to unnecessarily slow the system.
"If you are not 85 or older, or helping someone that is 85 or older, please do not try to book your appointment right away. We will be opening the booking system to more people in the days ahead, by descending in age order," Merriman noted.
"If you're not eligible please don't test the system. We've seen that in other provinces. British Columbia had 100,000 people eligible, and they had 1.7 million people try to access and it crashed the system. We need to be able to make sure that our seniors have the first opportunity to be able to book in their appointments so they can get vaccinated first. That's our priority," Merriman added.
Saskatchewan Health Authority CEO Scott Livingston noted there is currently a shift towards speeding the vaccination process as a key strategy in controlling the spread of COVID-19.
"The most definitive tool we've had is the tool of a vaccination, and we've already seen dramatic results in some of our most vulnerable," Livingstone said. "We know before Christmas we had 200 plus infected individuals in Long Term Care. I think today we have seven. Not having those types of outbreaks to manage with some of our most vulnerable has been a huge relief on the system. And that's directly due to the vaccination program. So the race is on."
With the launch of the patient booking system, the SHA has phasing out their previous program of contacting individuals to make appointments, and on Thursday those individuals must make their own appointments, starting with individuals aged 85 and over.
Future expansions in age groups eligible for appoints will be shared though Public Service Advisories which will be updated via the government's daily COVID news release and via Government of Saskatchewan and SHA social media channels.
The public is invited to visit Saskatchewan.ca/covid19-vaccine to check for new eligible age groups and to book appointments when available.