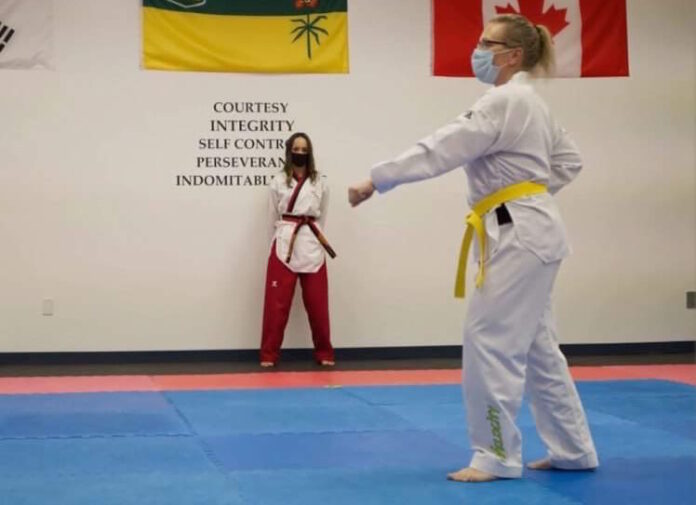 Velocity Taekwondo athletes participated at the 2021 Alberta Taekwondo Challenge and recently received their results from the virtual event, which was held in January.
The Velocity entries were highlighted by one gold medal, six silver, and two bronze medals.
"Our students are the true image of dedication. In times that are difficult to compete in normal ways, they have practiced hard to compete in these virtual events and they have excelled. Our Poomse instructors Brooklyn Hir and Tyneka Hir have put in long hours to help our students accomplish their goals. It's a true team effort," said instructor Allen Graves.
Leading the way was Ckinten Cortez with a gold medal performance in White F 2004-07 Poomsae Division.
Brooklyn Hir placed second in the Black Belt Poomsae Junior category with an average of 6.80.
Also winning silver was Angie Friesen in 5-6 Gup F 1976-1984. Austin Evans won silver in the 1-2 Gup M 1977-2008 Division. Cole MacIsaac added a silver medal in the Poomsae 9 White Division.
Zane Banman placed second in the 9th Gup M 2006-2007 Division. Levi Colenutt followed in fifth in the same division.
Four Velocity athletes took part in the Poomsae White 7 1969-1986 Division. Wendy Evans placed second, Jo-Lynn MacIsaac followed in third, Alison Banman was fourth, and Lawrence Friesen was fifth.
Matthew Friesen added bronze in 5-6 Gup M 2004-2007. He was followed in fourth by Mitchel Friesen in the same division.
Maverick Friesen finished fourth in the 4-5 Gup M 2008-2010.
Ashlyn Evans placed fifth in the 1-3 Gup 2007-2010.