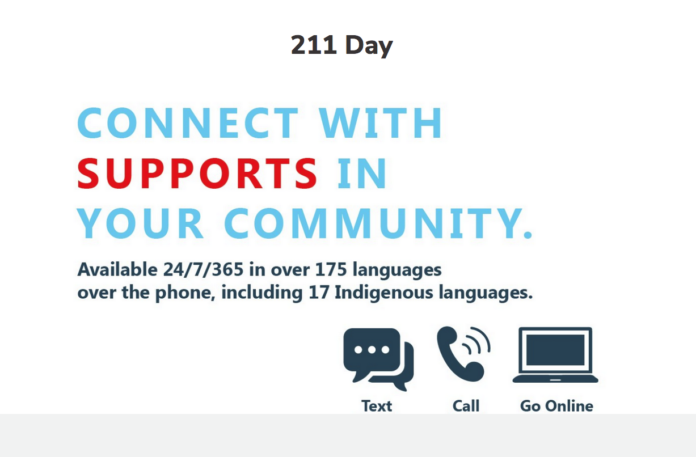 The importance of the 211 program across Saskatchewan is being celebrated today on February 11.
The initiative, funded by the United Way of Saskatoon and Area along with the United Way Regina, was launched in Saskatchewan in June 2018 and has become a growing network which helps link people to the supports and services they need.
Swift Current City Council received a virtual presentation on the 211 Saskatchewan program at their January 25 virtual meeting. Kristin Nelson, Director of 211 Saskatchewan, shared details of the 211 portal which is available 24 hours a day via phone, text, web chat, or independent search online at sk.211.ca.
"Often a person seeking service can be faced with multiple challenges at once and the support must come from multiple different agencies. Again, that can make navigating the systems that we have very, very complex," Nelson explained. Individuals and families can be facing a wide range of issues including addictions, mental health, violence and abuse, or homelessness.
211 Saskatchewan boasts a service directory of over 6,000 entries that document and describe programs, human services and organizations available to help Saskatchewan residents.
"211 helps people from all walks of life and communities across our province to navigate complex systems quickly to find what they need."
Nelson noted that the free and confidential service will be launching a re-designed website which will make it easier to locate necessary services. The refreshed look places a focus on ease of use and the site will feature enhanced search capabilities in order to find the most appropriate services quickly and easily. The website features information organized by need, as opposed to being organized by who delivers the program, so an individual does not need to know the name of a specific program or agency to locate them.
"Simply put, 211 is all about helping people connect to the services they are looking for. It helped redirect emergency calls from 911, ensuring that emergency services are used appropriately."
Nelson highlighted that 211 Saskatchewan has recorded a significant increase in use since the start of the COVID-19 pandemic.
"Even though 211 is not fully known in the province, from the day the first case of COVID-19 was announced in Saskatchewan we saw a huge surge in 211 usage. March saw a 200 per cent increase in phone services. Overall the phone service usage saw about a 90 per cent over the six months post COVID compared to the six months prior."
"Mental health and addictions was fairly consistently the main reason for calls pre COVID. While from March to August of 2019 health care really quickly jumped to be that main reason. We saw requests for income support increase by over 90 per cent, which shows some of the challenges that people in Saskatchewan were facing as a result of COVID."
Back in September, 211 partnered with Ministry of Justice to create a portal for people who are experiencing interpersonal violence and abuse. The province has committed $421,000 over the next three years to expand the interpersonal violence supports available through 211 to support victims of domestic violence, sexual assault, and all forms of interpersonal violence and abuse.
However, Nelson reiterated that 211 is not a crisis line, but rather a portal for connecting people to the right services and supports.
"What happens when somebody phones 211 and they're in crisis, is we make sure that they're safe first and foremost, and then we make sure that we get them connected to the right place."
Statistics show that approximately 10 per cent of all calls (including text, live chat and email) to the 211 line made in 2018 were related to interpersonal violence.
Services for individuals experiencing violence and abuse can be found directly at https://abuse.sk.211.ca/, but individuals who are in immediate danger should still call 911.