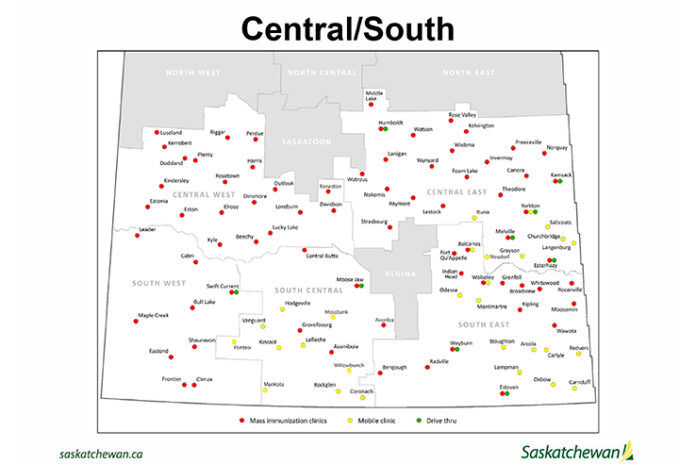 Saskatchewan will be taking an age-based approach to rolling out additional doses of COVID-19 vaccines when the second phase of the provincial vaccination delivery plan begins sometime in April.
The mass immunization portion of Saskatchewan's vaccination delivery plans were unveiled on February 10, with the roll-out strategy taking aim at immunizing the oldest residents of the province first. All Saskatchewan individuals over the age of 70 are targeted to receive the vaccine during Phase One, while Phase Two will begin with residents in the 60 to 69 age group.
"We will be focusing on age as the primary risk factor. We know that age is the number one factor in determining severe outcomes from COVID-19. So our mass vaccination will be done by age, starting with our oldest residents first," explained Saskatchewan's Health Minister Paul Merriman.
"What we're looking at right now is getting a large quantity of vaccines in a short amount of time. And the best way to distribute that and get it across the province as fast as possible and as safe as possible is to look at age categories. That's also where we've seen the attack rate of COVID… it's the people that are over 60 that unfortunately have the most impact from COVID and the most fatalities that we've seen in Saskatchewan, and across the country and around the world. That's where we need to focus in to make sure that that group is immunized. That will take pressure off our healthcare system."
Of Saskatchewan's 332 COVID-19 deaths as of February 9, the 80 and over age group accounted for 175 deaths or just over half (52.7 per cent) of the deaths. The 60 to 79 age group recorded 118 deaths (35.5 per cent of total deaths). There were also 27 deaths (8.1 per cent of all COVID deaths) in the 40 to 59 age group, while 12 individuals (3.6 per cent of deaths) in the 20 to 39 age group succumbed to COVID-19.
Additionally, the province announced that Phase 2 vaccinations will also be delivered to the following targeted groups:
• Group homes for persons with intellectual disabilities
• Emergency shelters
• People with underlying health conditions that are clinically extremely vulnerable include: Solid organ transplant recipients; People with specific cancers; People with severe respiratory conditions; People with rare diseases that significantly increase the risk of infections; People on immunosuppression therapies sufficient to significantly increase the risk of infection; Adults with very significant developmental disabilities that increase risk; Adults on dialysis or with chronic kidney disease.
And while the province is planning to deliver the vaccine in an efficient and timely manner, the start date for the launch of mass vaccinations has no official start date. As a result of the limited supply of vaccines provided to Saskatchewan, the province currently has competed only 12 per cent of vaccinations which are targeted for the 190,000 people identified in phase one.
Saskatchewan was expecting to receive 191,300 doses of COVID-19 vaccine in the first quarter of 2021 (124,800 doses of Pfizer vaccine and 66,500 doses of Moderna vaccine). However, the province is now anticipating a shortfall of more than 12,600 doses of the Pfizer vaccine in the first quarter, as well 500 less doses of the Moderna vaccine, which is further slowing the completion of phase one. To date the province has received only 45,000 doses of the 380,000 doses needed to immunize the 190,000 people identified in Phase One.
"The current allotments that we have are less than half of what our Phase One priority population requires to be fully vaccinated, and we continue to see delays in receiving vaccines and those delays are going to extend the time it will take us to finish Phase One, but also may disrupt our start of Phase 2 depending upon how much vaccine we receive near the end of March and in early April," explained Saskatchewan Health Authority CEO Scott Livingston.
When Phase Two begins, with projected start dates of April to June dependent on available vaccine supplies), immunizations will be delivered by the Saskatchewan Health Authority through more than 220 clinics across 181 communities. Vaccinations will be delivered through mass immunization clinic, drive-thru clinics, mobile clinics, along with community clinics (pharmacies)and other methods.
In the Southwest, a drive-thru clinic will be operated in Swift Current, mass clinics will be delivered in Leader, Cabri, Kyle, Beechy, Lucky Lake, Maple Creek, Gull Lake, Swift Current, Eastend, Shaunavon, Frontier, Climax and Gravelbourg. Additionally, mobile clinics will be run in Vanguard, Hodgeville, Kincaid, and Lafleche.
It was pointed out that a total of 385 pharmacies in 113 different communities participated in Saskatchewan's flu immunization program and delivered approximately 50 per cent of flu shots across the province this past year.
Livingstone noted that it was important to share details of their plans in order to prepare both workers and the public for the vaccination campaign. By getting the right information out to the public they will also be able to communicate the safety of the vaccine and help avoid vaccine hesitancy.
"The reality is we have a safe vaccine. We have it inside of a 12 month period of time since the start of this. And we need to actually prepare as a province and prepare as people of this province to receive that vaccine as quickly as possible."
Merriman said that the plans are subject to change, similar to the way Phase One vaccinations have been changed based on availability and changing priority areas.
"If we had an unlimited supply of vaccine we'd be rolling out this evenly across the province. Everybody would be able to have access to this, if we had unlimited supply of vaccine. We don't right now, so we've been targeting areas that have had some challenges with their COVID outbreaks," he conceded.
"This is a challenge. This is going to continue to be something that we're going to work on to make sure that it's as fair and equitable as possible across the province. But the real reason is is because we don't have a massive supply of vaccines right now. And it's extremely scarce. And we have to target specific areas."