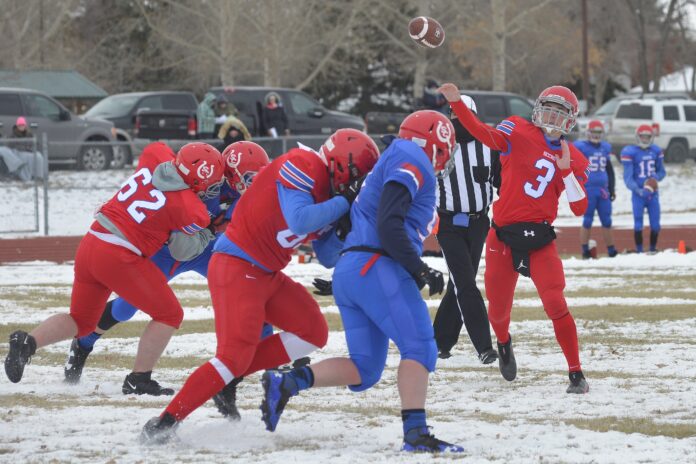 After missing his entire grade 12 season due to the COVID-19 pandemic, Swift Current Comp. Colts quarterback Carter Moberg is hoping to return to the field next season after signing with the Regina Thunder of the Canadian Junior Football League.
"I'm pretty excited. I like all their coaches, so I think it will be a good experience to go and be there," said the Swift Current native.
The 6'0'' quarterback attended the Regina Minor Football High School Fall Camp and said that after the first day the coaches started talking to him.
The Thunder's 2021 roster listed five quarterbacks prior to his signing announcement, but Moberg hopes to work his way onto the field.
"I'll just go work hard and hopefully I can get to play as soon as possible."
Moberg will join the Thunder for training camp in August.
"Carter has a very strong and accurate arm that will be able to stretch defenses and find the holes underneath. His pocket presence and toughness will enable him to become a leader in the years to come with the Regina Thunder," said the Thunder's signing announcement on Facebook.
"I'll probably just try and throw as much as I can so that I can get there and be as good as I can," said Moberg, who added that he hoped to improve his overall game as well as his speed.
Moberg, 17, credited Regina quarterback coach Campbell Antonini for helping him improve his mechanics and reach this stage of his career.
Moberg took over the starting quarterback duties midway through his grade 10 season when the Colts advanced to the league semi-final. He led the team to the championship game in grade 11 before they were defeated by Yorkton Regional to place second in the SHSAA 5A South Rural 12-Man Football League.
"I think there's more I could have done. It would have been nice to win the finals last year," he lamented.
The Colts were able to get on the field this season for intra-squad games, but they were unable to compete for a long overdue league championship.
"It's unfortunate. I think we would have had a good team. I think we would have had a good chance to go out compete and play with all of our team."
Moberg will study business at the University of Regina.