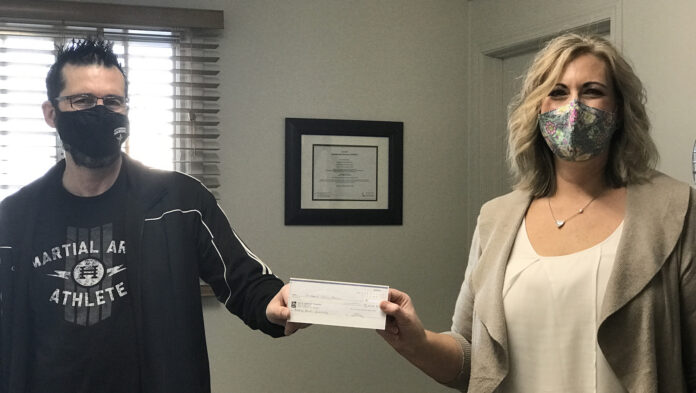 Swift Current Christian Taekwondo held its annual fundraiser – Breaking Boards for Freedom presented by Alpine Dental (formerly Breaking Boards, Breaking Chains) – on November 28, 2020, and raised over $18,000 for victims of domestic violence and human trafficking.
"The support shown by our students and our surrounding communities blew me away," said Head Instructor of Swift Current Christian Taekwondo, Gary Voysey. "I honestly did not know what to expect, given the challenges people are facing as a result of the pandemic."
Of the funds raised, approximately $11,455 was put toward the rescue and recovery of child sexual assault victims through International Justice Mission (IJM) and about $6,796 was allocated for victims of domestic violence through Southwest Crisis Services in Swift Current. Donations are still trickling in.
"This event is a great way for our students to show their skills as martial artists – board breaking is always fun and a boost to one's confidence," said Voysey. "But more importantly, it's a way to raise awareness of these prevalent societal issues … and to actually help do something about them."
Strict COVID-19 protocols were in place for the event, which was broadcast via Facebook Live. "Obviously we had to do things a little differently this year," explained Voysey. "We were limited in terms of people in attendance, and our students had to break one at a time during a scheduled time slot, but it proved to be an even better experience. Through the use of technology, I think we actually had more people watching and participating than ever!"
Breaking Boards for Freedom was supported by numerous sponsors: Alpine Dental (title sponsor), Sagewood Homes (board sponsor), Blue Hill Excavating Inc. (IJM Champion sponsor), Anchor Dental (Southwest Crisis Services Champion sponsor), and Great Plains College (door prize sponsor). An online auction, which was fueled by local donations, also proved to be a successful way to raise money for the cause.
"Again, we are just so grateful for the support. We live in a giving community that cares about and supports others in need," exclaimed Voysey.
Swift Current Christian Taekwondo is host to about 130 members and has served the southwest for almost nine years. They offer a variety of online and face-to-face classes and programs for all ages. Over the past five years the club has donated approximately $50,000 to IJM and Martial Arts for Justice, which supports individuals affected by the genocide in Rwanda.