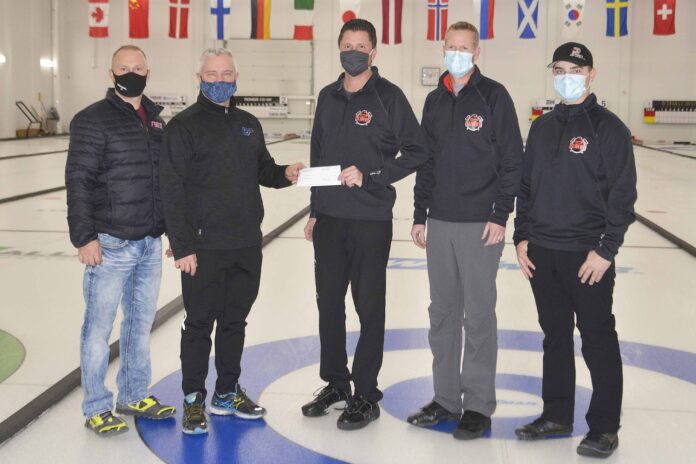 A curling camp recently held in Swift Current will benefit young curlers in more ways than one.
"We ran a High Performance Junior Curling Camp for ages 14-20. We thought of the idea last year after the under-18 bonspiel we held for kids. We were just blown away by the interest there was in curling. It's the fullest I've seen our club in a long time and it was with these junior curlers. So we felt it would maybe by a good idea to put on a camp for these junior curlers and teach them some high performance information," explained Swift Current Curling Club General Manager Chris Haichert.
Pat Simmons was on the ice, while Ben Hebert, Eve Muirhead, and Steve Laycock coached virtually.
"So it was a real special opportunity for these kids to have access to some of the world's best curlers. The weekend was a huge success for us," explained Haichert.
Secondly, the club was able to make a donation of $2,000 to the Swift Sliders with the proceeds from the camp.
"It's a youth curling program in Swift Current and the surrounding area that tries to transition kids from our junior curling program at the Curling Club and keep them involved at the high school and then into adult curling. That's kind of the whole goal, and to develop skills and become more competitive as they move along," explained Swift Sliders coach Ron Bailey.
Bailey and Jeff Chambers have been running the Swift Sliders for three seasons now.
"So far we've got some really good curlers is what it boils down to. They're throwing good, the communication is good, they're developing as we're trying to do."
The SCCC was pleased to be able to help out the youth program.
"The idea of hosting this camp was any of the proceeds that we get from that camp we wanted to return back into the sport of curling. What better place to put it than the Swift Sliders program, which is an excellent program here at our club. We've really wanted to support those youth and those junior curlers, not only supporting them, but the Swift Current Curling Club has seen huge support from our community and the businesses in the community. They help support us and partner with us to ensure that we can have a successful season and provide this sporting opportunity for the citizens of Swift Current. This was kind of our way of doing what much of the business people do for us in supporting us, we wanted to support the youth in our community as well with this donation," said Haichert.
"That money will go towards additional equipment that all of our kids can benefit from, just to make some of those purchases that we just wouldn't be able to make without donations like this. It's graciously appreciated," added Bailey.
The Swift Sliders are on the ice Tuesdays and Wednesdays from 4-5:30 p.m. "Then we have three teams that curl in Tuesday night leagues and two teams that curl in the Thursday night Super League. So it's a busy week," explained Bailey.
"We started out with about a dozen [curlers]. We're at 20 right now. We are willing to grow it as big as we can. We're not turning anybody away. There's no process of eliminating kids. It's just if you want to develop your skills you can be a part of the club."
Bailey and Chambers were both on the ice for the camp as well.
"It was just awesome. It was a great turnout and a good success," said Bailey.
Haichert said that club has gotten off to a great start despite the challenges presented by the COVID-19 pandemic. "I think people have been looking for things to do. It's been a really good start to the season. For the first time in a long time every single league that we offer is full, several of them are over full. That's an excellent problem to have. We definitely have to keep in mind the covid restrictions and really up our game to ensure that people are safe when they come to our curling club. As far as the season goes, yes we are off to a great start and we'd just like to continue growing the sport," said Haichert.