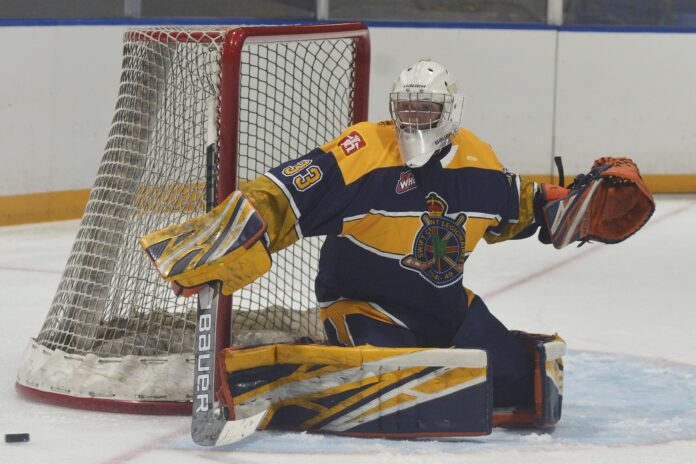 The Swift Current Home Hardware Legionnaires lost 5-2 to the visiting Notre Dame Hounds to open the Saskatchewan Male U18 AAA Hockey League regular season on Sunday.
The Legionnaires showed up to play, but took too many penalties as the Hounds won the special teams battle with two power play goals and one shorthanded goal.
"I thought the boys played pretty good in the first and third. The second we set it back a notch there and they got a couple goals and that's what killed us. It's just pretty much discipline in the third period there, getting that coincidental, that's just how it is. That's hockey and we need to build from that. We learned a lot of lessons this game," said assistant captain Ashton Fishley.
The Legionnaires had to fight off nine shorthanded situations and were outshot 52-26, but they did fight back to make it a one goal game when Jakin Lawrence and Carter Cormier scored to make things interesting.
Cormier scored midway through the third period to cut the deficit to 3-2. "Rhett Dekowny there, he dumped the puck in deep and finished his check and that just got the boys going. We just need to keep doing that. Whenever we're on our heels, we just need to get the puck back in their zone and bang some bodies and that's what happens," said Fishley.
Josh Schenk put the game away with a power play goal with 2:37 remaining and Nikita Nikora scored into an empty net.
Carter Wickenheiser, Nick Smolinski, Dekowny, and Fishley all added assists. Zane Winter kept the Legionnaires in the game with 47 saves on 51 shots.
Fishley said there were positives in the loss.
"I thought the boys were very physical today. It was good. They were on their heels in the third and the first. We need to keep being physical and being the toughest team in the league."
The Legionnaires will get their first look at the expansion Estevan Bears this weekend when they host on Friday at 7:15 p.m. and then visit Estevan on Sunday.
"I think we need to get more pucks on net. We need to work on our O-zone too I'd say. We can't win games with two goals if we're going to let in five goals in the game. I think also our team, when we're down a goal, when they score on us we need to stay positive and keep going, keep pushing, and not give up," concluded Fishley.