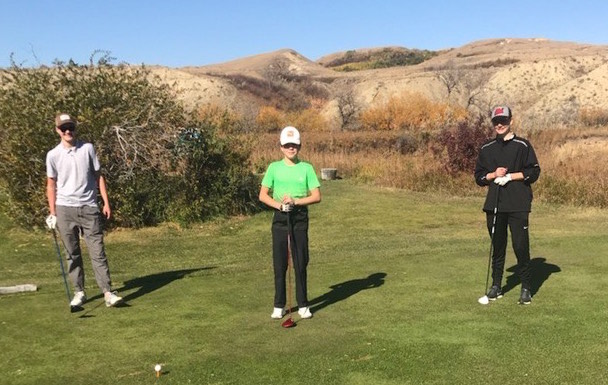 After seven long months, SWAC school sport officially returned. On Saturday, October 3, the Streambank Golf Course in Eastend was the site for a SWAC 'Celebration of Golf.'
13 golfers from Eastend, Swift Current, Ponteix and Val Marie took part in the event. It was a perfect day for 18 holes of golf. SWAC golfers complied with all Chinook Return to Sport guidelines and were able to have a great experience.
The look of the event was different than in past years. Though not an 'official' competition, the golfers decided that they did want to keep track and submit scores.
Top score for 18 holes was Logan Lenz from SCCHS (79). Three golfers tied with a score of 80: Landyn Lacher and Rhett Franklin from Ponteix and Cashton Yaremko from Val Marie.
SWAC will have a 'Celebration of Cross Country' in Eastend on Wednesday, October 14. Plans are being made to run races in all age groups (Pee Wee, Bantam, Intermediate, Junior and Senior)
In football, schedules are nearing completion for the 9-man mini-league. Shaunavon, Maple Creek and Gull Lake will play a home/home series. The first game is slated for Wednesday, Oct. 14.
With SCCHS having larger numbers, they can split their roster and will be playing 'in house' 9-man football games. The schedule will be set shortly.
The SCCHS Arden and Colt soccer teams will also stay 'in house' for seven versus seven games for the foreseeable future. Herbert soccer is planning on running two weeks of training/practice, but are not anticipating any competitions at this time.
Junior and Senior volleyball practices can begin on October 13. There will be a multitude of mini-leagues set up across the division, some leagues opting to stay 'in house' and some leagues will have games with other schools. The first competitions in volleyball can be scheduled for the week of October 19.
As you can imagine SWAC/Chinook have protocols that must be followed to offer school sport. Things are going to look a bit different for the foreseeable future, but SWAC is committed to offering the best school sport programs it can, while staying safe. SWAC appreciate everyone's support in following the protocols as they start to run more activities for its student athletes.
The Chinook School Division sports report is submitted by Valerie Gordon.