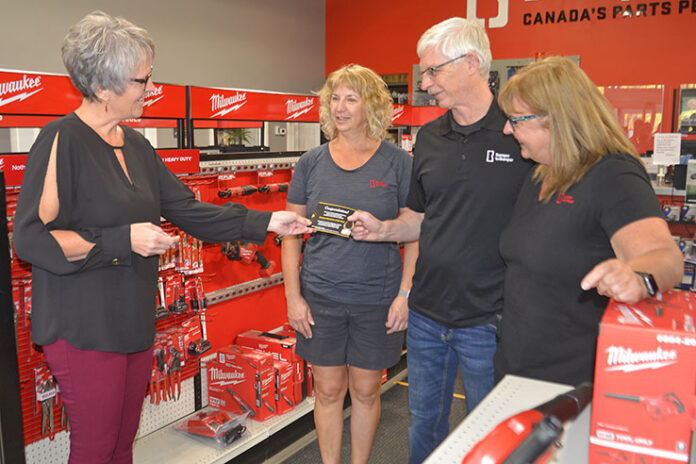 There were lots of smiles when Great West Auto/Bumper to Bumper was recognized as the Chamber's Member Business of the Year during a surprise announcement last Thursday.
Karla Wiens, CEO of the Swift Current and District Chamber of Commerce, noted that this highlight award is a salute from the Chamber's business community and a prestige recognition each year.
"I know that Leanne (Tuntland-Wiebe) and Randy (Wiebe) and Sharon (Walde) and the rest of the staff are very community minded. They've run a great business for years and years and years, so I think its wonderful for them to be recognized as our Member Business of the Year."
Wiens pointed out that their handling of a false COVID-19 positive test at their business provided a template for other businesses to follow in being up front with their customers about their situation.
"The multiple COVID efforts that Bumper to Bumper came out of the gate really early when they were faced with what turned out be a false alarm with a false COVID positive test in their place of business. They kind of led the charge and helped the rest of the businesses in Swift Current on how to address that if and when that does happen to their businesses. So that was great."
This is now the fourth SCBEX award won by Great West Auto/Bumper to Bumper, after previous wins in the Environmental Award Category in 2005, the Heritage Business Award in 2012, and the Medium Sized Business in 2018.
"I was a little surprised," admitted Leanne Tuntland-Wiebe. "This one, this is the big one. That's very meaningful."
"For us that's the big one because that means we're out there, the community recognizes that we're trying to do our best, take a leadership roll and we're trying to do our best and be involved with the whole community and the whole Southwest."
She admits that their highlight of the year was hosting the Justin LaBrash drive-in concert during the summer, a family-friendly free event which was one of Saskatchewan's earliest live music opportunities of the pandemic.
"That was our goal was to give people something to go to. To get out of your house and feel normal and listen to music."
However, their year was dominated by their being up front with information when a staff member had a false positive COVID-19 test.
"We had 100 per cent support from the community," she said. "That told us that we did the right thing by announcing that we had a positive COVID case here, and then that became our anchor for being able to tell other businesses you're going to be OK. You can come out the other side."
Tuntland-Wiebe recalls she spent nearly a full two weeks on the phone fielding calls from businesses, customers and concerned citizens during that period. They not only had to reassure customers, but they were also busy with locating and shipping out COVID related PPE to a wide radius. They actually brought in PPE and sold it at cost at a time when businesses were struggling with cash flow before re-starting operations.
"We did that to help the community, so selling it at our costs meant those people could open their businesses."
"That was the biggest challenge this year – keeping everybody safe."
Tuntland-Wiebe mentioned the support of the Hutterite Community during COVID-19, as they made over 4,000 masks which were provided free of charge.
"They were the first ones to come out with something that could help people with COVID. And we became the hub to send those out."
Masks were sent as far away as Toronto, Europe and the Philippines before masks became an easily found commodity.
"It's a great community and the Hutterites helped so much with the safety of the community."
Randy Wiebe said they are still receiving positive feedback about how they dealt with their COVID-19 false positive.
"I think us coming forward with the COVID case, which later proved to be a false positive through, earned us a ton of respect in the community," he said. "It was the right thing to do and how it effected our business at that time was actually inconsequential to us. We just needed to do the right thing."