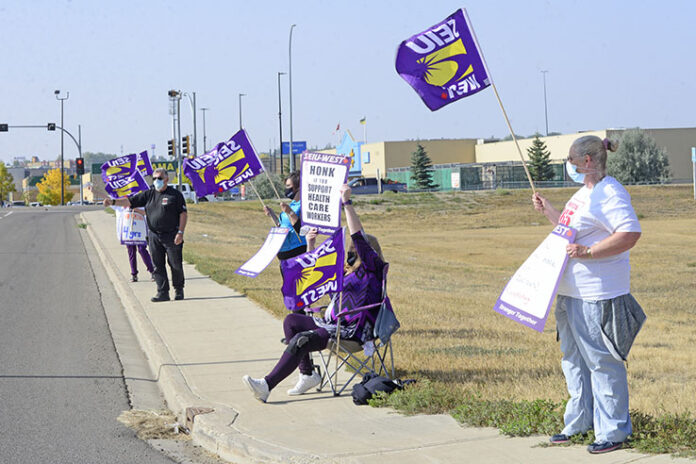 Local members from SEIU-West held a 90 minute demonstration in front of the Cypress Regional Hospital on September 17 to highlight the impacts of not having a collective agreement sine March 2017.
The demonstration was conducted primarily over the noon hour in order to raise a series of ongoing concerns which have been caused by not having a contract since March 31, 2017.
"Healthcare workers are demonstrating an incredible amount of frustration and displeasure because we've been well over three years without a collective agreement, and we see that as a real barrier to recruiting and retaining healthcare workers in the province. But also it impacts our working conditions which also impacts the quality of care we're able to provide to our patients, clients and residents," SEIU-West President Barbara Cape explained during a phone interview at the conclusion of the demonstration.
Swift Current's demonstration is the seventh event in the province dating back to an initial August 12 event in Saskatoon. SEIU-West members are aiming to rally public support and raise public awareness of these issues while demanding a better investment in front line healthcare workers in Saskatchewan.
"These folks are working at 2016 rates of pay. They are working at double and triple as hard as they normally do, which is an incredible workload to begin with. And the support from the provincial government really isn't there. So we want to see that investment because we believe the investment in frontline workers isn't just for union members, it's for our patients, clients and residents."
The SEIU-West members without a contract are healthcare sector workers employed by the Saskatchewan Health Authority in the former Saskatoon, Cypress, Five Hills and Heartland Health Regions. These workers include Licensed Practical Nurses, administration staff, Continuing Care Aides, Food and Nutrition Staff, Environmental Services Workers, plus Maintenance Staff.
"They all have an incredible role to play at the best of times in healthcare as part of the team. But especially during a pandemic the importance of those individual roles has never been more important and really I would argue more appreciated by the public than it has during this COVID-19 pandemic," Cape said.
The efforts of these workers has been highlighted because of the duties they carry out in the midst of facility lockdowns and pandemic protocols.
"The pandemic, I can't think of a lot of silver linings, but I would say that one positive is that the public has really awoken their knowledge and information about what the whole healthcare team does to keep us all safe. And so these demonstrations are a way to really garner the public's support, but also garner the public to take action in support of healthcare workers and a collective agreement."
Cape noted the SEIU-West last had a video conference with negotiators in May, but in the ensuing weeks they have continued to write to the Premier and the Minister of Health while continuing to call on the Saskatchewan government to invest in front line healthcare services.
"It's not just a matter of not having a collective agreement for over three years, which all by itself is a bloody travesty, we can do better."
Cape pointed out that both Swift Current and the Southwest workers are uniquely positioned to be recruited to other jurisdictions, which is also having an impact on the situation.
"A lot of our classifications in Swift Current are regularly headhunted to work in Alberta. And rates of pay and the comparison between Saskatchewan and Alberta rates of pay in healthcare, Alberta is paying more for technologists, for Licensed Practical Nurses, for a whole host of classifications. So if we can get a collective agreement we can also stabilize our workforce and make sure that there's a quality agreement that will attract new staff to work in our healthcare system and augment current staffing levels. But also retain some senior skilled professionals to stay in the system and continue with their institutional knowledge and providing that with an incredible level of care that our members know how to do.
"But without a collective agreement there are too many unknown factors and a level of instability that lead a lot of members to say 'you know what, this is not worth it and I'm going to go and take a job across the border or I can take a job in Ontario.' There's a national market for healthcare workers and this government needs to recognize the need to step up and enter into that market so that we can keep our quality staff."
After their initial seven demonstrations, SEIU-West members are planning additional events in communities including Kyle, Lafleche, Assiniboia, Wynyard, Rosetown, Kindersley, Lanigan and others. And while these events are causing incremental responses from the Saskatchewan Association of Health Organizations (SAHO) and government, Cape said more needs to be done.
"We are past the point of incremental responses. We need a bold plan from this government to fund a proper collective agreement so that we can get back to focussing on what matters which is our patients, clients and residents."