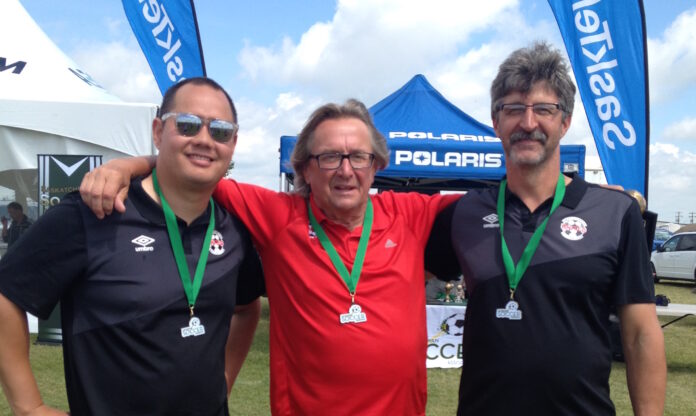 Soccer in Swift Current will have a new look in the near future after the Swift Current Soccer Association announced that Dale Perry's tenure as Technical Director has come to a conclusion.
Perry has been one of the driving forces behind the SCSA over the past 32 years, serving in almost every capacity imaginable, as a Board Member, coach, official, and as the Technical Director for the past six years.
"His dedication to the club has been instrumental in building a strong foundation which has resulted in many provincial championships, award winning players, development of local coaching expertise, and a 'love of soccer' instilled in many generations of local youth," noted the SCSA in the announcement.
Due to the uncertainties caused by the COVID-19 pandemic, the SCSA has contracted local coach Chad Striker to serve as the interim Technical Director.
"I have been thinking about retiring for a couple of years now and the time just seemed right to me," explained Perry. "My contract expired at the end of August. COVID-19 presents a lot of issues for the organization, including financial. The Board will need to restructure programs to comply with back to play protocol established by both Saskatchewan and Canadian Soccer Associations."
"We cannot express our appreciation enough for the many hours he has dedicated to the sport. The Board of Directors wishes nothing but health and happiness to Perry as he moves into retirement," said the SCSA in its media release.
The Technical Director position saw Perry oversee many aspects of soccer in Swift Current.
"I am very proud of the improvements made in all areas of player, coach, and referee development. We opened the doors to a lot of players who were capable of playing at a level we weren't able to provide in Swift Current. Every coach in the United program is certified to or above required levels. The referee development program is doing well with the establishment of a Referee in Chief and Assigner," he said.
As a coach, Perry has won more provincial championships than he was able to keep track of, likely in the vicinity of 30. He won the Saskatchewan Soccer Association's David Newsham Volunteer Award in 2003 and he was also named the SSA's Grassroots Coach of the Year in 2012. Perry, who has a field named after him in the city, has also coached both the Swift Current Comp. Colts and Ardens soccer programs, including an active streak of 11 straight Moose Jaw League championships with the Ardens.
"There have been quite a few over the years," said Perry when asked about his career highlights. "Our U15 female team made it to the championship game of the Saskatchewan Premier League in 2013. A win would have sent us to the Nationals. I enjoyed coaching both male and female teams over the last five Saskatchewan Summer Games. My 20 plus years with the SCCHS has been very special."
Travis Meyer remains one of the most accomplished soccer players to come out of Swift Current after playing for Perry on United and Colts teams in the 1990s. Meyer captained two of the first provincial championship United teams that Perry coached. He would go on to star for the University of Lethbridge Pronghorns for five seasons.
"Dale's impact on my soccer career is undoubtedly significant," said Meyer. "As I've been able to coach a variety of sports myself these last 20 years or so, being a teacher and around young people, I've realized that it takes a unique kind of demeanor, or personality type, to be able to guide and mentor teenagers. Whether it's on a field, court, rink or classroom, a coach/teacher needs to have a specific type of self-awareness. Dale helped create situations in which young people like myself could thrive, develop as people and athletes in a safe environment and still be kids in their formative years. I further realized that he's an impactful coach because he connected with us as soccer players and people, which is what good teachers do. We also had some very talented teams and coaching that is often under appreciated and surprisingly difficult."
Lauryn Hayes has been a member of the University of Regina Cougars for the past two seasons after playing for Perry on United and Ardens teams, including the SPL silver medal squad in 2013.
"Dale ignited my passion for soccer at a young age. He helped me realize my potential and constantly took it a step further by pushing me out of my comfort zone. Through his network of supports and love of the game, he presented me with incredible opportunities; through coaching, refereeing, and playing. Dale pushed me to strive for more – as a player and a person, and I am very thankful for that," said Hayes.
Kaity Letwiniuk also came up through the United and Ardens soccer programs under Perry before starring for the Medicine Hat College Rattlers in the ACAC for five years. She has been able to enter the coaching ranks after her playing career ended.
"Dale was my high school soccer coach and I was also very lucky to coach beside him for a few years. Being a player for Dale Perry is something I wish everyone who plays soccer could experience. His vast amount of knowledge and passion for the game makes it incredibly fun and challenging to learn from him. He also introduced me into the coaching world and showed me how rewarding it can be. Dale Perry can always be seen on the soccer pitch at any time of the year, for as long as anyone can remember. He is, and always will be, the heart and soul of soccer in Swift Current," said Letwiniuk.
All three players had fond memories of their time spent with their longtime coach.
"What I remember most about Dale is just how present he was," explained Meyer. "To clarify that, I mean we spent lots of time together and I just knew how much he cared by how totally involved he was in everything. Not in a controlling sort of way, but because he wanted to one way or another. I also remember how funny he was, which is also a wonderful but tricky way to connect with teenage boys!"
"Playing for Dale Perry was always an adventure," added Hayes. "I will never forget the 'automatic doors' on his van, his consistent 110%, and his one-of-a-kind lingo. Most of all, Dale fostered a fun, yet hardworking, environment within his teams. His passion for soccer is what sets him apart from the rest. He has devoted countless hours to bettering his program, teams, his players, and soccer within our province. The Swift Current Soccer Association has been so lucky to have him."
"I remember laughing, a lot," added Letwiniuk. "Even though he was my high school soccer coach, he treated me as his friend as well. Which made for a great player-coach relationship. Dale knew when to push me to be better but also when I needed to be made fun of so I would stop being so serious all of the time. It's been eight years since I've played for Dale and we still have the same friendship that's full of laughter."
Perry, who will turn 67 next week, won't be working on soccer full time going forward, but he still hopes to return to coaching after he recovers from a serious leg injury over the summer.
"It is my hope to still coach with the association in the future. I look forward to being able to focus all my attention on just one team instead of the entire club."