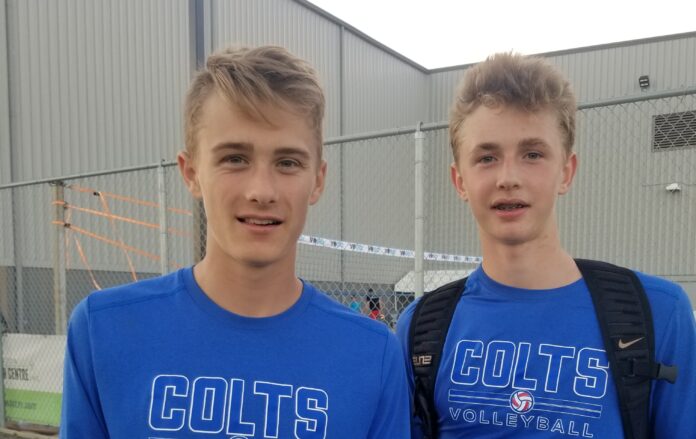 Swift Current's Griffin Duncalfe and Shaye Wall won gold at a VOGO beach volleyball tournament in Saskatoon over the weekend.
The Swift Current Comp. Senior Colts teammates tied for top spot in the five-team round robin with a 7-1 record before defeating Swift Current's Luke Bloom and Caleb Martens (Saskatoon) in the championship match.
Duncalfe and Wall opened the day with a win over Cannell/Webster (21-19, 24-22), followed by a win over Mowchenko/Lewis (21-18, 21-14). They added a win over MacNaughton/Hedin (21-15, 21-8) and then concluded the round robin with a split against Martens and Bloom (22-20, 18-21).
The championship match saw Martens and Bloom win the opener 21-16 before Duncalfe and Wall answered with 22-20 and 21-19 wins.
Martens and Bloom also finished with a 7-1 record to tie for top spot in the round robin. They defeated MacNaughton/Hedin (21-16, 21-11) and then downed Mowchenko/Lewis (21-16, 21-6). They added a win over Cannell/Webster (22-20, 21-11) before splitting with Duncalfe and Wall.
Swift Current's Dylan Mortensen combined with his University of Saskatchewan Huskies teammate Jake Rapin to place second in the 15-team men's division. They tied for first in their pool with a 3-1 record. They defeated Erickson/Patzer (21-16, 21-18) and split with Goski/Phillips (21-8, 16-21).
Mortenson and Rapin opened the playoffs with a win over Epp/Epp (21-15, 21-9) before losing the championship match to Saldana/Fraser.
Swift Current's Dayton Patzer and his Huskies teammate Jeff Erickson finished with a 0-4 record in the men's division. They lost to Goski/Phillips (18-21, 15-21) and then to Mortenson and Rapin.
Swift Current's Mackenzie McIntyre and Reese Evjen tied for eighth in the girls division on Saturday.
They tied for second in their initial pool with a 1-3 record after they split their opening match against Piluk/Nolan (17-21, 21-12) and then lost to Vanderhooft/Switzer (18-21, 16-21).
In the playoffs, McIntyre and Evjen played a pair of three-set matches, defeating McEwen/Lees (21-14, 17-21, 15-8) and losing to Pereira/Petras (20-22, 21-16, 15-4)
The next VOGO competition is on August 22 in Regina for the boys and adult divisions. The girls division will be in Regina on August 29.