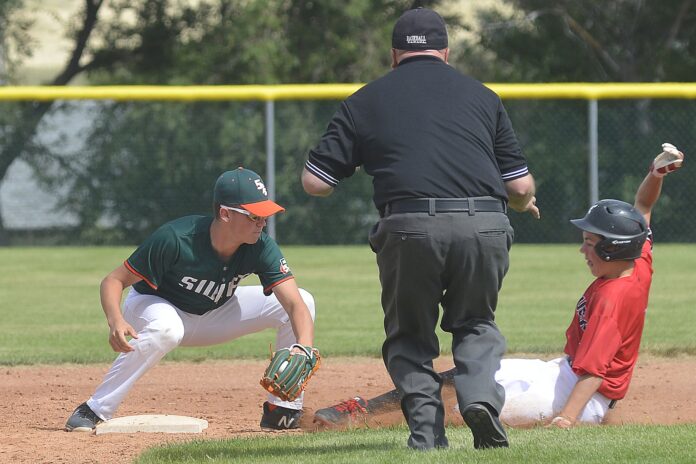 The Swift Current 18U AAA 57's won twice in four attempts during a busy home weekend in the Saskatchewan Premier Baseball League.
Saturday, the 57's overcame four errors in the opening game and won 6-5 when Carter Moberg doubled home two runs in the bottom of the sixth inning.
Wyatt Harkes earned the complete game victory on the mound as he struck out five without allowing a walk while throwing 101 pitches. Harkes allowed seven hits and five runs, only four that were earned.
Shortstop Dawson Schultz led the 57's with two doubles, a run scored, and a run batted in. Riley Bowers added two hits, including a long double that nearly cleared the Mitchell Field outfield fence, a walk, and a RBI. Catcher Ethan Murdoch singled, walked, and scored twice.
The 57's won the second game 6-5 as well when Bowers hit a two-run single with two out in the bottom of the seventh inning for a walk-off win. The 57's were trailing 6-2 entering their final at bat before scoring five runs.
The 57's finished with 10 singles in the game, including three from Bowers, who finished with two RBIs and one run scored. Kelsey Rokochy also had two hits, was hit by a pitch, stole a base, and scored. Moberg singled twice, walked, scored, and added one RBI. Murdoch singled, walked, stole a base, and scored. Kole Giesbrecht singled, scored, and brought a run home.
Bowers earned the win on the mound after pitching the seventh inning. Rylan Hildebrand had a strong relief outing, allowing one earned run over three innings.
Sunday, the 57's were unable to continue their comeback ways during an 8-5 loss to the visiting South East Twins. The Twins scored two runs in four consecutive innings to end the 57's four-game winning streak.
Rokochy took the loss as he allowed five hits, five walks, and six runs, only four that were earned, while striking out four over 3.1 innings. Hildebrand allowed two runs over the next 2.2 innings, while Bowers pitched a scoreless seventh inning.
Hildebrand doubled during a two-hit outing as he knocked home a pair of runs. Murdoch doubled, walked, stole two bases, and scored twice. Rokochy singled, stole a bag, and scored from the leadoff spot. Giesbrecht and Chase Coward also had RBI singles in the loss.
The second game wasn't nearly as close as the Twins used seven and eight-run innings to defeat the 57's 19-7.
Murdoch was a bright spot at the plate as he finished three-for-three with a triple, three RBI, one stolen base, and three runs scored. Rokochy also tripled during a two-hit performance and scored twice. Moberg singled, walked, and added one RBI. Giesbrecht singled, scored, and had one RBI. Hildebrand finished with a single and an RBI.
The 57's (4-3) will be on the road Thursday to visit the Canucks. They will also visit the Regina Wolfpack (7-5-0) for two games on Saturday and the Regina White Sox (10-2-0) for a double header on Sunday. The 18U 57's will conclude the regular season on Tuesday back in Moose Jaw (3-11-0).