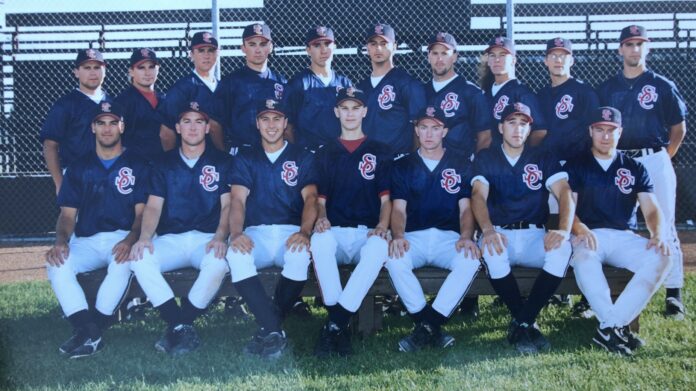 Twenty-five years ago Ila Borders' baseball odyssey brought her to Swift Current to pitch for the Swift Current Indians in the Saskatchewan Major Baseball League.
Borders made plenty of history during her baseball career and she said her summer spent in Swift Current played a pivotal role in that journey.
Borders made the trek north to Swift Current in 1995 with two of her Southern California College teammates following her sophomore season.
"Being 20-years-old at the time you are just a sponge. I don't think it was just baseball that I was learning so much, but it was being out of my comfort zone, being in Canada. I still have such fond memories of Swift Current, living with the host family that hosted me. I worked on a sod farm and to go pump the water up and roll the sod, and deliver it, and to work on a farm, that's a highlight. I loved being able to embrace you guys' culture."
But make no mistake, Borders came to Swift Current with the goal of mastering her screwball as she chased down her goal of playing professional baseball.
"The three of us were like when we go out there we are going to actually work on things. I was very grateful that the coaches at that time, they knew hey 'Ila is coming in, she is going to be working on this new pitch.' The first time I threw it it didn't go anywhere near the catcher. It was nice to be able to go somewhere and work on things.
"It was the screwball and the slider. If I didn't have that I would never have played professional baseball. I attribute that, because it took a year to finally get that down, I learned that by throwing it over and over again in the league."
Chris Grainger was a local infielder midway through his 10-year run with the Tribe when Borders came to Swift Current.
"She threw five or six pitches. Her velocity was okay, it wasn't great, but she had just a lot of junk, so she used all her pitches to try and get people out," said Grainger, who added that he never stepped into the batter's box in practice against Borders.
The Indians lost in the championship series to the Oyen Pronghorns that summer.
"She was a good teammate. She wasn't boisterous or anything like that. She was here to win and here to get business done and see another part of the world kind of thing," added Grainger.
The odds were certainly stacked against Borders in her pursuit of playing professional baseball against men. She said it was a deep seeded love of the game that pushed her along that path.
"I just wanted to be a professional baseball player and see how far I could go. I knew there was going to be tonnes of opposition. People wanted me to go into softball. I didn't know how to throw the ball underhand. I wanted to be a pitcher and so I wanted to throw the ball overhand. I was brought up with a dad and a mom that didn't say you're a female so you have to go to softball. They were like if you really want this and you want to play baseball, as long as you can compete then go for it."
Her love of the game hasn't wavered over the years. On the 4th of July, in the midst of the COVID-19 pandemic and coming off a graveyard shift, she was planning to head to the diamond to play catch and take batting practice with friends.
The Swift Current Indians are now known as the 57's and the SBL has evolved into the Western Canada Baseball League, a true wood bat collegiate league. Back in 1995 the Indians were only allowed three import players. Borders did not count against the team's import spots, but part of the deal was she had to pitch in each SBL city.
"Naturally at the time our biggest thing was is she going to be able to win games for us," said coach Joel Barta. "At the end of the day, in Swift, it was about keeping the cup there. It was less to me about it was a girl than the fact of can she pitch?"
Borders' appearances on the mound in the SMBL were certainly an attraction with increased attendance and steady media attention.
"I think out there was more what it was was people were more intrigued or they were like 'Holy crud there's a female out here, I want to go see this.' More people were out there because they were curious and they just wanted to see it… I think I had some support. My teammates I got along with great. They were extremely supportive," said Borders.
"I know one thing that really bothered Ila was she didn't want to distract from the game. To her credit it was hard because there was always reporters that wanted to talk to her. She didn't want to be a distraction. She wanted to play baseball and she wanted to win," said Barta.
"When I was in the States I was used to people showing up at my dorm room. People were showing up in my class. I had no privacy whatsoever," explained Borders. "When I went up there [Canada] the media was out there, but you guys are extremely respectful. It was a nice getaway even though there were more fans. I love playing in front of people, so the more fans the better and the guys were kinda like that too."
"For her it was probably as hard as it was on anybody else because you could have Kelly Horaska go four-for-four and they might not be talking to him. She was very much about the team. She was there, she loved baseball, and she wanted to win," said Barta.
Teammates and coaches commended Borders for her focus while in Swift Current.
"She was a great teammate. She was great to be around. She was just kind of one of us. Very competitive. I know she was trying to get after her first win. She had had a couple losses and she was trying to get into the win column. She had as much competitive drive as any other person I've ever played with," said Grainger.
"Very goal oriented, very task specific," added Barta. "When she came to the park she was coming to work. She was always there early. She was just always professional. Just so damn focused about what she did. I knew just in life she was probably going to have some things go well from her, whether it was in the game or outside the game, just because she was really driven. She was never one you had to worry about not preparing."
That drive would help Borders play four professional seasons of men's baseball. She spent three seasons in the Northern League with the St. Paul Saints, Duluth-Superior Dukes, and the Madison Black Wolf and one in the Western Baseball League with the Zion Pioneerzz. She eventually became one of the first female pitchers to win a men's professional baseball game in 1998. Some of her playing gear is on display at the National Baseball Hall of Fame and Museum in Cooperstown, New York.
"I have some good friends that work there. I get some pictures here and there of people taking them and sending them and saying some really nice things. To be remembered and honored that way, I can't even begin to describe it in words how grateful I am. Hopefully when people go through there it inspires them somehow, someway to go after that dream that might be different or hasn't been done yet," said Borders.
Borders detailed her baseball journey in the 2017 book 'Making My Pitch: a Woman's Baseball Odyssey.'
"It was very scary. People know me as an extremely private person, very private. I was going around and doing some talks and I have been a pitching coach for guys and girls. Even in the fire department I was talking about my baseball experience with going into a male dominated field or dealing with failure and how to keep going, and then living an authentic life and being in the moment."
Borders said it took her 10 years to get the book out.
"I would get it ready and send it and then I'd take it back. I knew as soon as I put it out there that people are really going to know me and the story and I didn't know if I wanted that out there. It has been the best thing for me and I think for other people just to say hey there's other people like you."
She is currently a captain paramedic firefighter in Portland, Oregon. Borders has worked for Major League Baseball and USA Baseball as a pitching coach in recent years. She has had numerous opportunities to coach professional baseball but has chosen to work with individual pitchers instead.
"I like working with people one on one instead of team atmospheres because I really like to develop and I like to connect with the person instead of the team."
Barta coached the Swift Current Indians in 1995 and 1996. Nowadays he is an associate scout for the Colorado Rockies in Major League Baseball. He recently stepped down as head coach of the Northland College Lumberjacks in Wisconsin. He looks back fondly on the summer of 1995 to this day.
"I just enjoyed being a part of that situation because it was so unique. We just wanted to make sure that we handled it the right way and do it professionally and treat her as much like we would treat anyone else on the roster. For the most part I think we achieved that. I think we made her feel like one of the guys and that was what she wanted and that is what we wanted."
Borders said she still has a picture of herself with her 1995 Indians teammates that sits on her dresser to this day.
"I really developed as a person and as a baseball player out there by being in a different environment, being around different people, having support out there, getting along with the guys. I had never travelled that much and being able to see your guys' country that much was a treat for me. It really had a profound impact on my life and I am very grateful."