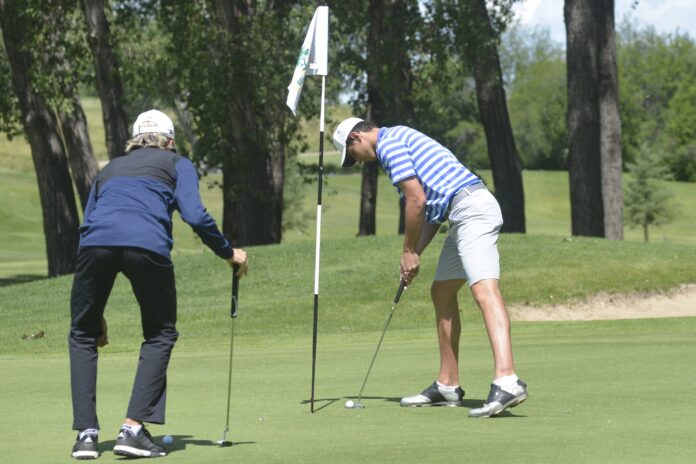 Swift Current Broncos forward Cole Nagy was back in town last week for some heated competition. But the 6'6'' power forward wasn't jostling for position in front of the net at the Innovation Credit Union iplex. Rather, he was one of 34 golfers taking part in the Saskatchewan Junior Boys Golf Championship at the Elmwood Golf Course on July 14-16.
Nagy placed 11th out of 34 golfers at the provincial championship. He opened the event with a 78 on day one, followed by a 74 on day two. Nagy wrapped up the event with a 79 on Thursday.
"I thought that I did pretty good. I haven't been able to practice much or really play that much so far this year. The second day I played really well, which was nice because I haven't played well in a long time. Overall, I thought I had a pretty good week and it was a lot of fun."
The Saskatoon product said he is no stranger to the Elmwood Golf Course.
"When I was younger and used to golf a lot I used to work with Jeff Chambers, so we'd go down to Elmwood all the time. I know the course pretty well. It's a pretty nice course."
His twin brother Josh, who golfed for the Robert Morris University Colonials this past season, won the event by eight strokes after shooting a five-under 67 in the final round.
"That was pretty cool. I've watched him win a lot of golf tournaments. This one was a little bit different because of the whole COVID and everything, so there wasn't as big a celebration after. It's awesome for him. He's won a bunch and he continues to keep on winning. He works really hard at it, so it's been good," said Cole.
Nagy said that playing both hockey and golf can have benefits for the other sport.
"You have to be mentally strong in both of them. Golf is a lot harder mentally than I think hockey is. If you can be mentally tough in both it will help a lot."
Nagy was acquired in a swap of 18-year-old forwards as Matthew Culling went north to the Prince Albert Raiders on Dec. 27. The 6'6'' 199-pound Saskatoon product had four points in 25 games with the Raiders prior to the deal.
"It was a roller coaster of a day. I got the call around 8 a.m. in the morning. I was in shock at the start and then realized that it was going to be a good opportunity to get more ice time and hopefully develop as a player. It was tough though saying goodbye to all the guys. I made some real close friends there. But it's been a good change so far."
Nagy knew Cohner Saleski and Hendrik de Klerk already when he arrived in Swift Current, which helped eased the transition.
"Those two guys kind of helped me get to know everybody and then after about a week or two I knew everybody and it just kind of felt normal again. It's about a one week to two week transition period and then it's hockey so it kind of goes back to normal once you know everybody."
Nagy increased his offensive production in Swift Current with three goals and seven assists in 25 games before COVID-19 forced the cancellation of the season.
"I was able to play a lot of special teams. We had a weaker team, so we didn't have as much depth as P.A., who had a real deep team. I was put in opportunities that I wasn't going to get in P.A. I just tried my best to take advantage of the opportunities and hopefully they'll be more to come next year."
Nagy has made impressive offensive improvements in his game before. He registered 18 points in 43 games during his first season of Midget AAA hockey with the Saskatoon Blazers. The following season he finished third in Saskatchewan Midget AAA Hockey League scoring with 65 points in 44 games before making the jump to the WHL.
Nagy has been working hard to try and increase his production when the WHL gets going again.
"During the quarantine, when it was completely shut down, my parents bought kind of a squat rack and weights and stuff, so I've been working out at home almost every day, which has been good. I've been watching what I have been eating, so I'm trying to stay in good shape. I've been skating about four times a week and working, so I'm pretty busy between work and skating and working out."