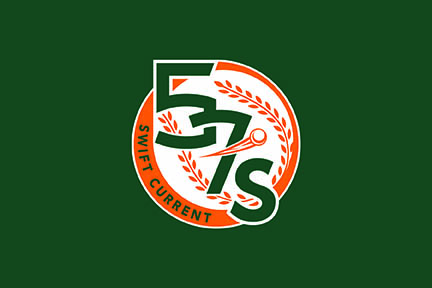 The Swift Current 18U AAA 57's split their opening day in the Saskatchewan Premier Baseball League against the host Parkland Expos in Yorkton on Sunday.
The 57's let a three-run lead to slip away in the opener as they allowed four runs in the sixth inning of a 7-6 loss to the Expos. The 57's were held to two hits but took advantage of four errors with eight walks. Ethan Murdoch scored a pair of runs as he walked and stole a base. Ben Patenaude finished with two walks, one run scored, and one run batted in. Wyatt Harkes and Evan Kobley also had two walks and a RBI. Carter Moberg singled, walked, and scored. Kole Giesbrecht singled, scored, and brought a run around to score.
Dawson Schultz allowed six hits and three runs over three innings as he struck out three and walked three. Ben Patenaude and Rylan Hildebrand each pitched in relief.
The 18U 57's got into the win column with a 6-1 victory in game two. Kelsey Rokochy tossed three no-hit innings as he struck out four. Harkes closed things out with four innings of two-hit ball, allowing one unearned run while striking out eight.
Rokochy helped his cause at the plate with three walks, two stolen bases, and two runs scored from the leadoff spot. Murdoch walked twice, stole a base, and scored twice as the 57's were held to two hits on singles from Hildebrand and Nahum Hiebert.
The 57's will play four games next weekend, beginning on Saturday when they host the Regina White Sox (3-0) at 1 p.m. and 4 p.m. at Kinsmen Field. They will also visit the Moose Jaw Canucks (0-1) for a double header on Sunday. The 18U 57's will also visit the White Sox on Wednesday.