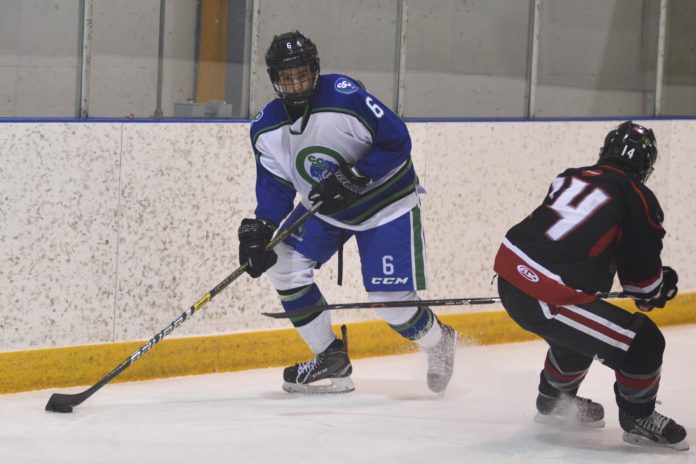 Leaving home last year has given Nolan Stevenson the opportunity to play for his hometown team in the Western Hockey League in the future. The Shaunavon native was drafted in the fourth round, 67th overall, by the Swift Current Broncos in the 2020 WHL Bantam Draft.
"I was ecstatic," said Stevenson. "Obviously there were no guarantees going in. I just saw my name come up and it was awesome."
The two-way defenseman said it was a tough waiting for his hockey fate to play out.
"I had a little bit of trouble getting to sleep last night. I just tried to sleep in as much as I could, so I didn't have to sit here and wait. I got up, watched the pre-show, watched the first couple rounds. As it got more towards the late third round where I was more likely to get picked I started getting more and more anxious. Then I saw my name come up to the Swift Current Broncos. It was great."
Stevenson grew up a Broncos fan in Shaunavon and said he came in for all the playoff games during the 2018 championship series. His dad played 42 games for the Broncos during the 1994-95 season in a WHL career that also featured stops in Moose Jaw, Regina, and Seattle.
Stevenson played with the Notre Dame Hounds this season and finished with six goals and 15 assists in 30 regular season games in the Canadian Sport School Bantam Prep Hockey League.
"I describe myself as a two-way defender, solid in the D-zone, but can contribute offensively," said Stevenson.
"What I liked about him this year was against some of those top teams, the Deltas and Yale, you'd think that he might get eaten alive at times with some of their dynamite players. He seemed to thrive against the big teams. He makes smart plays. His feet are good," said Broncos Director of Player Personnel Gary Aubin.
Stevenson had worked his way up through the Shaunavon and Swift Current minor hockey systems. He played the 2018-19 season for the Swift Current Bantam AA Broncos and had eight points in 29 games before heading to Wilcox to join the Hounds.
"I just wanted to get the best opportunity for myself. It wasn't an easy decision. It took quite some time for me and my family to decide. We decided to go there. I don't regret it. It was great and I had an awesome time there. There were some struggles, but I don't regret it, it was good."
Immersing himself in hockey at the fabled Athol Murray College of Notre Dame in a top league like the CSSHL likely increased his draft stock.
"We were on the ice every day at Notre Dame working hard. We were in the weight room every day. For a couple months, every morning at 6 a.m. we were up running. It wasn't easy getting to the point where I am today, but I would do it again if I had to."
He said the toughest part of his hockey journey was leaving home last year.
"I think just moving away from home, it wasn't easy. Obviously there was a little bit of homesickness like any normal kid. But we battled through and stuck it out."
Stevenson won't have to worry about that as he attempts to make the Broncos. He will also have some familiar faces with him when he arrives for his first WHL training camp. The Broncos drafted his Notre Dame teammate Van Eger (Willow Bunch) in the fourth round. He is also friends with first round pick Brady Birnie (Regina), who he was recently teammates with in the SaskFirst program. Birnie and Stevenson have both signed to play with the Regina Pat Canadians in the Saskatchewan Under-18 AAA Hockey League next season.
"He's an outstanding player," said Birnie. "He moves the puck so well in the D-zone for a defenseman. He's got a super high IQ, he knows the right pass to make. He's got a good offensive side to him. He's got a hard shot from the point. I just think he's an outstanding player."
Stevenson is currently listed at 6' and 130 pounds.
"I'm going to work on getting as strong as I can going into Midget AAA. Then making that jump from the AAA league to the Western League I'm going to have to work on the strength again and then foot speed, getting pucks up ice, the whole D-zone. Then I'm going to keep working on becoming more offensively effective."