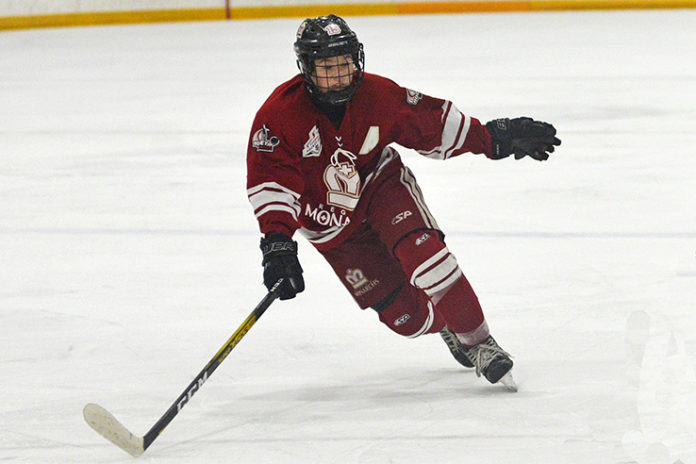 The Swift Current Broncos have stated their goal to add skill and scoring in the coming years and they believe they did just that in the opening round of the 2020 Western Hockey League Bantam Draft. The Broncos opened their draft by selecting Regina's Brady Birnie with the 21st overall selection as they look to rebuild the franchise after their 2018 WHL championship run.
"It was super exciting," said Birnie after being drafted. "All I wanted from the draft was just to go to a great organization and being able to go to Swift made my dream come true. So that made me really happy."
Even though he was drafted in the opening round, Birnie said that it was still a nervous day.
"It was pretty nerve-wracking. I was really tense and then when I got picked there was just a huge weight that fell off my chest and I was relaxed again."
He added that he was glad to be drafted by a team so close to home.
"That was one of the things we really wanted because my family really wanted to see me play. So staying close, we wanted that more, so that was awesome."
Birnie finished second in Saskatchewan Bantam AA Hockey League scoring with 128 points in 31 games, five behind linemate Sam Oremba.
"The one thing you do notice is he's a little bit on the smaller size, but he's going to grow a bit," said Gary Aubin, the Broncos Director of Player Personnel. "The skill level is off the charts. He competes. Putting up 128 points this year, really in any league is really good. He played with [Sam] Oremba, who went higher. But a lot of times it was Birnie setting up Oremba or Birnie with Oremba… He just knows where to go. He's offensive and with a little bit of growth, which should happen, he'll be pretty good offensive player in our league we think."
Birnie led the province with 72 assists in 31 games. He added 56 goals to place second in league scoring before adding 10 points in three playoff games.
"I'm hard-working. I'm a leader and I think I'm a playmaker. I can make plays in both ends of the zone by blocking a shot or chipping a puck out or even neutral zone passes or in the offensive zone, making a pass. I feel like I can do those things pretty well," he said when asked to describe himself.
Birnie admitted that he didn't know too much about the Broncos but that he has played in Swift Current and has been to a game at the Innovation Credit Union iplex.
The Monarchs were second in the South Division in the regular season with a 26-5-0-0 record and were one win away from reaching the South Division final when the season was cancelled due to COVID-19. They were up 1-0 on the Swift Current Bantam Broncos in the semi-final series and were looking to close out the series in Swift Current.
He will be getting more familiar with Swift Current and the iplex as he has already committed to play for the Regina Pat Canadians next season in the Saskatchewan Under-18 AAA Hockey League. Shaunavon's Nolan Stevenson, a Broncos fourth round draft pick, will also suit up for the Pat Canadians. The two have already played together in the SaskFirst program.
"He's a shifty little playmaker. His hockey smarts are unbelievable. His passing ability, getting the pucks out of his zone, and then creating the rush, finding a guy, creating odd-man rushes, he's very good at all of that," said Stevenson of his future teammate.
Birnie is currently listed at 5'6'', 120 pounds.
"I've been an undersized player my whole career, so I think I am just starting to get used to being undersized. Hopefully one day I won't be undersized," he laughed.
He said that he will be working hard to make the jump to the WHL.
"Oh I need to improve all of my skills and get everything better, but most importantly just my strength and size. Growing will come, but I'm just doing my best, training all the time and eating as much as I can just to do what I can to control that situation."