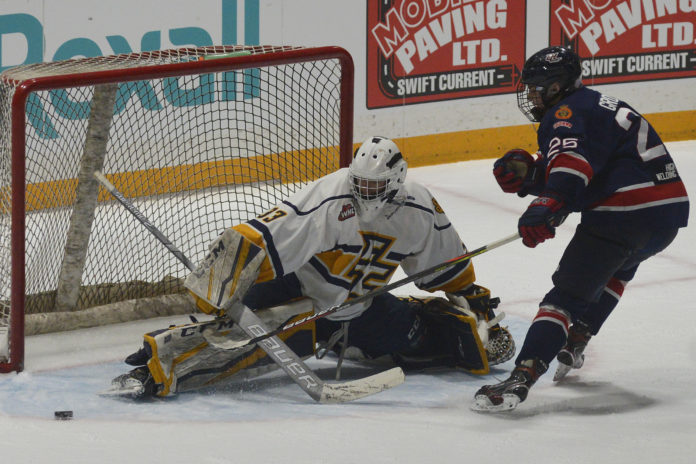 The Swift Current Home Hardware Legionnaires ended a four-game slide with a 3-2 shootout win over the visiting Regina Pat Canadians on Tuesday.
Jacob Herman stopped all three Regina shooters and captain Riley Dekowny scored the only goal in the shootout. Herman earned the win with 28 saves, including seven in overtime.
The Legionnaires had trailed 2-0 after two periods before Spencer Bell and Brandon Von Hagen scored to force overtime. Brett Fogg, Carey Levesque, Jonah Regier, and Logan Linklater all picked up assists.
Matt Millette and Blake Swetlikoff scored the Pat Pat Canadians, while Jared Thompson took the loss with 24 saves.
The Legionnaires remain eighth in the Saskatchewan Midget AAA Hockey League with a 13-12-0-2 record. Regina sits third with an 18-6-4-0 mark.
The Legionnaires will return to league action on January 9 when they visit the Saskatoon Contacts. They will attend the Mac's Midget AAA World Invitational Tournament in Calgary over the holiday break. They face the Fort Saskatchewan Rangers on Boxing Day to open the 25-team event.