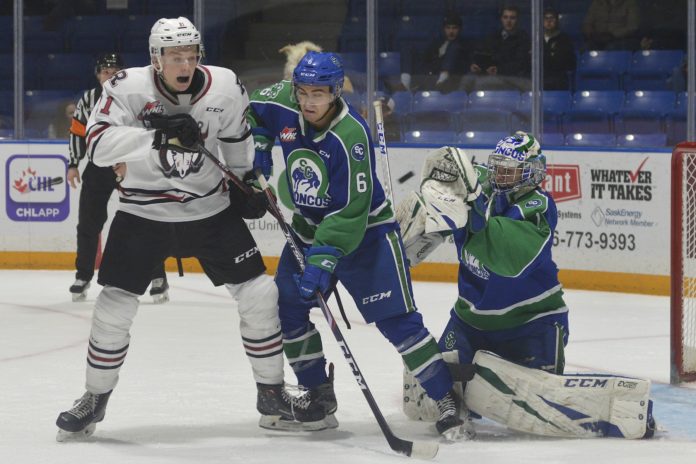 The Swift Current Broncos got 54 saves from Isaac Poulter and scored six goals on 22 shots to defeat the visiting Red Deer Rebels 6-4 on Tuesday.
The Broncos won for the third time in the past five games as they rode another dominating performance from Poulter to their sixth win of the season. Poulter improved to 6-7-1-1 with a 3.28 goals against average and a 0.918 save percentage.
Brecon Wood led the Broncos with two goals and one assist. Justin Svenson and Cohner Saleski both scored their first Western Hockey League goals in the win. Jaxan Kaluski and Eric Houk also scored for the Broncos. Defenseman Hendrik de Klerk and import Sergei Alkhimov each finished with two assists.
The game was tied 2-2 after one period, the Broncos led 3-2 after two periods, before they outscored Red Deer 3-2 in the final frame to clinch the win.
Jaxsen Wiebe, Dawson Barteaux, Christoffer Sedoff, and Arshdeep Bains replied for the Rebels. Byron Fancy took the loss with 16 saves on 22 shots. Swift Current's Chase Coward made his WHL debut in a 59-second stint in the third period without facing a shot.
The Broncos improved to 6-13-1-2, only two points behind Red Deer (7-14-0-3). The Broncos will return to action on Friday when they visit the Prince Albert Raiders.