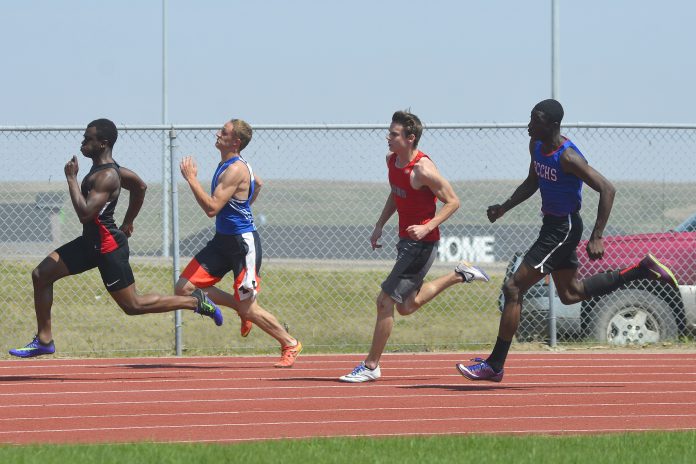 Swift Current Colts' star Scott Joseph set three records during the District Meet in Swift Current on Wednesday.
Joseph opened his assault on the record books in the Senior Boys Long Jump when he sailed 7.05 metres to eclipse a record from the 1950s.
Joseph continued his day with a record in the 200 Metre Dash in 22.11 seconds. He added another record in the Senior Boys 100 Metres 10.82 seconds.
A total of 11 records were broken on the day. Swift Current's Rhett Vavra added a Junior Boys 400 Metre record in 53.18 seconds.
The Ardens' Kamryn Johnson heaved the shot put 11.38 Metres to set a new Midget Girls record.
Shaunavon's Solomon Petrinin set a new standard in Midget Boys Shot Put with a top effort of 13.93 metres.
Both Jaycee Berggren and Olami Akinfiresoye eclipsed the Bantam Girls 100 Metre record, but Akinfiresoye (All Saints) now holds the record in 13.15 seconds.
Antaya Lee and Rebecca Elliot each passed the Bantam Girls 400 Metres record as well, but Lee (Ecole Centennial) is the new record holder in 1:06.65.
Waldeck's Rela Sloan added a new record in the Bantam Girls 800 Metres in 2:45.43.
Gretta Lopeter and Brogan Carlson both bested the Bantam Girls 1,500 Metres record, but Lopeter (Irwin) is the new record holder in 5:50.67.
Jayden Voll and Akinfiresoye also passed the Bantam Girls Long Jump record and Voll (Shaunavon) now holds the record at 4.53 metres.
Five athletes also set records in the Quadrathlon for total points over four events. Jackson Sitter (Leader) set a new mark in Senior Boys, while Aleah Nickel (SCCHS) set a Senior Girls record. Zach Sumner (Gull Lake) established a new high score in Junior Boys, while Baylee Kirwan (Gull Lake) set a new mark in Junior Girls. Sadie Keller (Gull Lake) also set a new Quad record in Bantam Girls.
Joseph and Vavra were amongst the four athletes at the meet to achieve the maximum 40 aggregate points. They were joined by teammate Kalea Sauder, who won all four of her events. Ponteix's Rhianna Ross also won all four of her events in the 15-16 age group.
Voll won the 13-14 Female aggregate title with 32 points, while Brayden Sumner (Shaunavon) won the 13-14 Male title with 28 points.
The top two finishers in each event in the Midget, Junior, and Senior events will now advance to SHSAA Provincials in Moose Jaw on June 7-8.