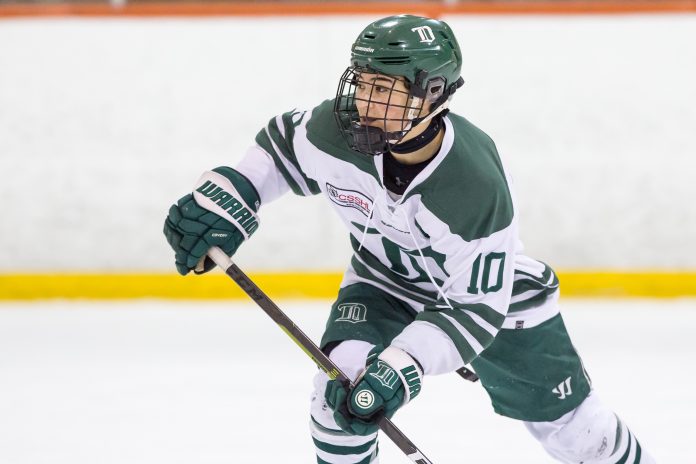 The Swift Current Broncos had full intentions of adding high-end skill to their organization and believe they achieved that task by drafting Kamloops' Mathew Ward with their first pick in the 2019 Western Hockey League Bantam Draft.
"He is a smaller, really, really skilled guy with very good compete," explained Broncos Director of Player Personnel, Gary Aubin.
"I am a speedy centreman, lots of skill, who likes to set guys up with playmaking skills. I can also score goals as well," Ward said when asked the inevitable question of describing himself on the ice.
"We actually targeted Ward with our first pick," said Aubin. "He was a guy that initially wasn't 100 percent sure, but after a lot of chatting with him and his agent and then meeting with him in Salmon Arm, with his dad, they definitely wanted to come to Swift Current."
"I was really excited obviously to go there, it's a pretty good organization, so I was pretty excited about that," said Ward from Philadelphia on Saturday, where he was playing with the Pacific Selects at the U15 World Selects Invitational.
Ward was sitting in a coffee shop in New York when he heard the news on Thursday morning.
"I was just trying to be as patient as possible. They [the Broncos] talked to me quite a bit throughout the year."
"He was the number one guy we were targeting," said Aubin, who estimated he had seen Ward skate in around 30 games this season. "Once they kind of committed we slotted him in there and we were just hoping he would slide down, which when you are picking 14th there is a lot of waiting."
Ward caught the Broncos eye with an impressive season with the Delta Hockey Academy Bantam Prep team, which had a 23-4-3 regular season record. The 5'7'' centre tied for third in the Canadian Sport School Hockey League with 40 assists in 30 games and was tied for fifth with 64 points.
He also had an eye-catching performance in St. Albert when Delta Green won the tournament and he led all skaters with nine goals and nine assists in six straight wins at the 16-team John Reid Memorial.
Ward said all he knew about Swift Current or the Broncos was that they won the league championship in 2017-18 and that it is a smaller centre for Major Junior hockey.
Ward is looking forward to teaming up with fellow Broncos first-rounder Tyson Jugnauth, who he has played with in spring hockey and against him in minor hockey.
"He is pretty good. He's a D-man with lots of skill, always jumping up in the rush, pretty offensive," said Ward.
He is also eagerly anticipating his first training camp with the Broncos in August.
"I just want to have a good camp and learn as much as I can from the older guys and get a feel for it and try and get ready.
"I'll just be training as hard as I can so I can play as a 16-year-old," said Ward, who is still unsure where he will play next season.