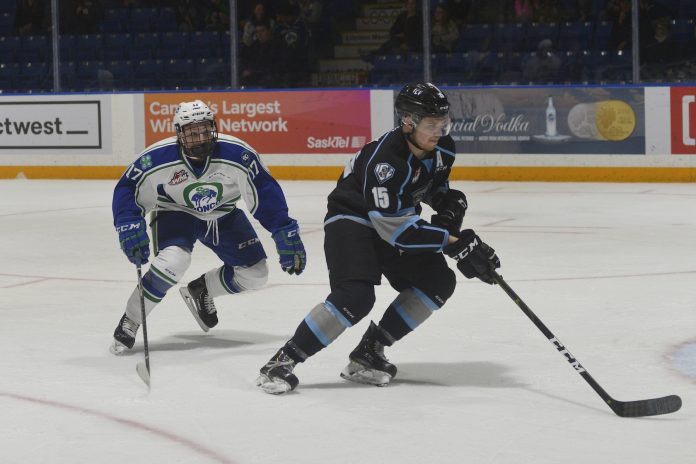 In addition to the 10 selections in the 2019 Western Hockey League Bantam Draft on Thursday, the Swift Current Broncos made one trade to bring a local defenseman back home.
The Broncos sent forward Alex Thacker to the Lethbridge Hurricanes for Swift Current's Wyatt Wilson.
Wilson has spent the past two seasons at the Yale Hockey Academy. He registered six goals and 17 assists in 36 games with the Elite 15's this past season. The 6'3'' defenseman was selected in the sixth round, 116th overall, in the 2018 WHL Bantam Draft by the Hurricanes.
"I got the call from a guy in Calgary and I was pretty excited because I've obviously been around the Broncos ever since I was a little kid, so it is kind of a dream come true," said Wilson, 15.
"I am kind of a two-way defenseman," said Wilson. "I like to focus on the defensive side of the game, but I also like to jump up in the rush a little bit. I like to play hard and physical," said the 6'3'', 197-pound blueliner.
He has spent the past two seasons immersed in the game at Yale Hockey Academy.
"I thought my offensive game has really developed playing E15 this year instead of U18. I thought it helped a tonne, I got to play lots, power play, it was really good."
He took part in his first WHL camp last summer with Lethbridge Hurricanes.
"It's definitely a lot faster. You have less time to make plays. It's pretty intense, so you've got to be ready to come into camp."
Armed with that experience, Wilson is hoping to crack the Broncos' roster as a 16-year-old next season.
"I am coming into camp with the full intention of making it and I will just hope for the best," he said.
Thacker was a sixth round pick by the Broncos in the 2017 Draft. He had 37 points in 34 games with the Fort Saskatchewan Midget AAA Rangers this season. He also played four games with the Whitecourt Wolverines in the Alberta Junior Hockey League and appeared in two games with the Broncos.