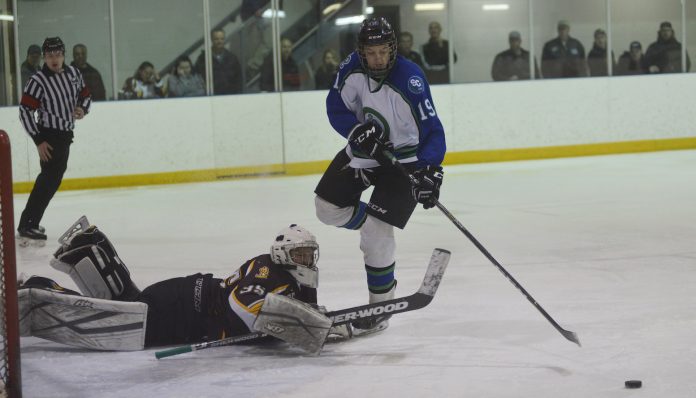 After 45 straight wins to open the season, the Swift Current Abbey Resources Midget AA Broncos finally met their match in the provincial final. The host Broncos lost 4-1 to the visiting Battlefords Barons on Thursday to fall behind in the best-of-three championship series.
The Broncos had ample opportunity to win the game, but they were only able to score on a weak wrist shot in the first period to tie the game 1-1 off the stick of defenseman Jackson Sitter. Riley Skarbon and Hunter Johnson picked up assists on the goal.
The Broncos finished without a goal on four power play opportunities, while Battlefords scored twice with the man-advantage on seven attempts.
The Broncos also were awarded a penalty shot in the second period, but Cash Arntsen's wrist shot clanged off the post.
Ashton Harris, Rocsyn Bird, Chase Taggart, and Connor Neave scored for the Barons, who had placed third in the Center Four League with a 20-11-02 record.
Justin Dueck took the loss with 22 saves for the Broncos. Cameron Taylor earned the win with 34 saves after recovering from a questionable opening goal.
The Broncos will put their season on the line on Saturday in the Battlefords. Game three, if necessary, would be next Wednesday back in Swift Current.