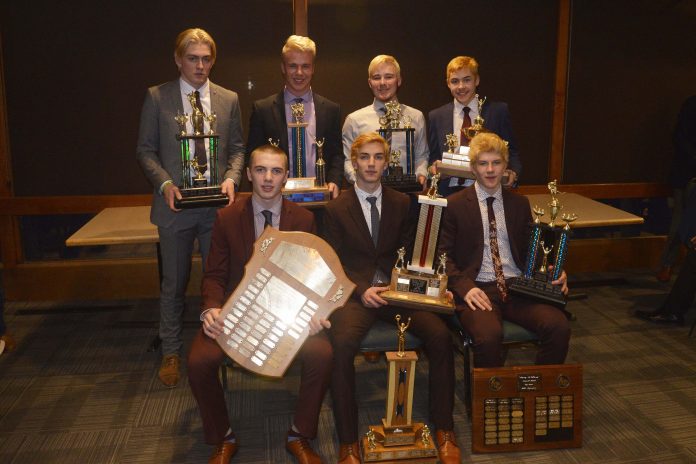 The Swift Current Home Hardware Legionnaires were together as a hockey team one last time on Friday as they gathered for their year-end awards banquet.
The Legionnaires finished fifth in the 12-team Saskatchewan Midget AAA Hockey League with a 28-14-1-1 record and then were swept in the opening round of the playoffs by the Notre Dame Hounds.
The Legionnaires handed out nine awards and third-year forward Mason Strutt led the way with three awards. The speedy Estevan product was the co-recipient of the Top Scorer award as he finished with 55 points in 44 games. He also was named the Most Valuable Player and won the Most Game Stars Award.
Local product Reed Jacobson shared the Top Scorer Award and won the Scholastic Award for a second straight year with an impressive 98.25 percent average at the Swift Current Comp.
Complete awards winners were as follows:
Scholastic Award: Reed Jacobson (98.25% average)
Most Improved Player: Joe Arntsen
Most Valuable Player: Mason Strutt
Dedication and Desire Award: Kersey Reich
Top Rookie: Logan Linklater
Most Game Stars: Mason Strutt
Best Defenseman: Hendrik de Klerk
Top Scorer: Mason Strutt and Reed Jacobson
Players' Choice Award: Lucas Ochitwa